$580.53
SKU: W-3005-EWP
Manufacturer Warranty
2 Year Limited Warranty
View full details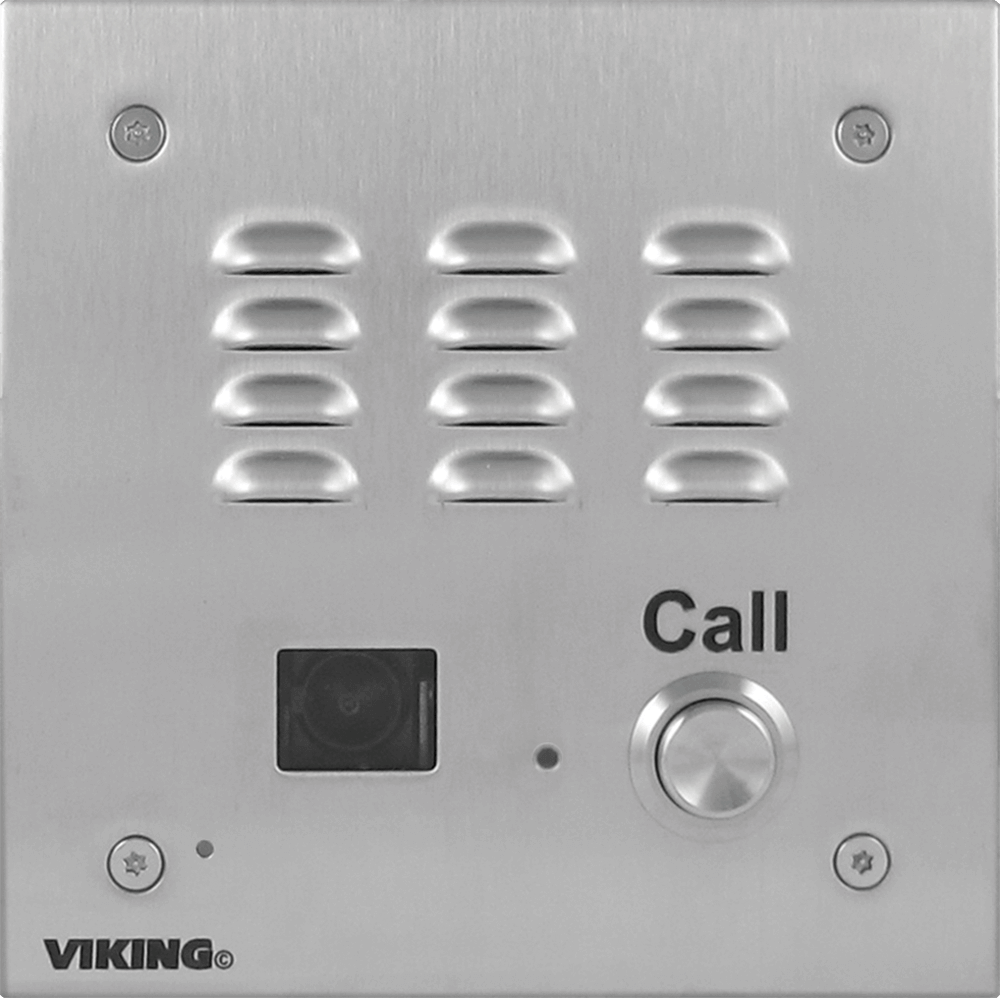 Viking W-3005-EWP Features:
Built-in high resolution color video camera with wide viewing angle, tilt/swivel adjustments and wide operating temperature
Audio and video transmission on one CAT5E cable
Vandal Resistant Features: 14 gauge louvered 316 marine grade stainless steel faceplate with permanent laser etched graphics, stainless steel speaker/mic screen, heavy duty metal "Call" button,scratch resistant powder coating (optional VE-5×5) and hexdrive mounting screws
Weather Resistant Features: Marine grade 316 stainless steel faceplate, screws and and push button switch. Switch internally sealed per IP67. Mylar speaker. Self-draining mic mount. Faceplate, mic and speaker gaskets. Weather resistant powder paint on optional VE-5×5.
Volume adjustments for microphone and speaker
Blue call progress / night light LED
High output speaker amplifier with volume adjustment POT
20 Hz ring generator (6.0 REN ring load maximum)
Selectable ring cadence (standard, double, short/short/long, or short/long/short)
Selectable number of rings (2, 3, 10 or 30)
Selectable "Push-to-Talk" feature for noisy environments
Connect to a phone system's unused trunk input, FXO port or a Viking C-1000B Controller

Viking W-3005-EWP APPLICATIONS:

Ideal for noisy locations in "Push-to-Talk" mode
Commercial, industrial or residential door security
Door or gate communication
Truck stop/gas station fuel island communication
Use with the C-1000B controller for single line residential systems or when the operation of door strikes or gate openers is necessary.

Viking W-3005-EWP SPECIFICATIONS:

| | |
| --- | --- |
| Power | 120V AC/13.8V AC 1.25A UL listed adapter provided |
| Dimensions | Overall – 5.0" x 5.0" x 2.25" (127mm x 127mm x 57.2mm) Plastic Rough-In Box – 4.0" x 4.0" x 2.12" (102mm x 102mm x 54mm) |
| Shipping Weight | 3.2 lbs (1.45 Kg) |
| Operating Temperature | -15°F to 130°F (-26°C to 54°C) |
| Humidity | 5% to 95% non-condensing humidity |
| Connections | (7) Gel filled butt connectors (3M Scotchlok UR2) |
Vikingtelecomsolutions.com, Inc. is a leading provider of Viking Electronics phone systems and equipment. We specialize in business phones and business phone systems for small to large companies; with phone systems for any application. We sell many of the brands in the IT, Telecom, Datacom, Electrical, and Industrial spaces.