$336.17
SKU: W-3000-EWP
The Viking W-3000-EWP is an attractive vandal resistant stainless steel handsfree door box with a blue call progress LED. Designed to interface directly with analog phone systems unused line input of phone system. One or two W-3000-EWP door boxes can also share an existing phone line when used with a Viking C-1000B door box controller.
The Viking W-3000-EWP generates a standard or custom ring cadence with an adjustable number of rings when the "Call" button is pressed. The Viking W-3000-EWP's louder speaker output and "Push-to-Talk" feature can be used for noisy environments.
EWP products feature foam rubber gaskets, sealed connections, gel-filled butt connectors, as well as urethane or thermal plastic potted circuit boards with internally sealed field-adjustable trim pots and DIP switches for easy on-site programming, The Enhanced Weather Protection (EWP), is ideal for outdoor installations where the unit is exposed to precipitation or condensation.
View full details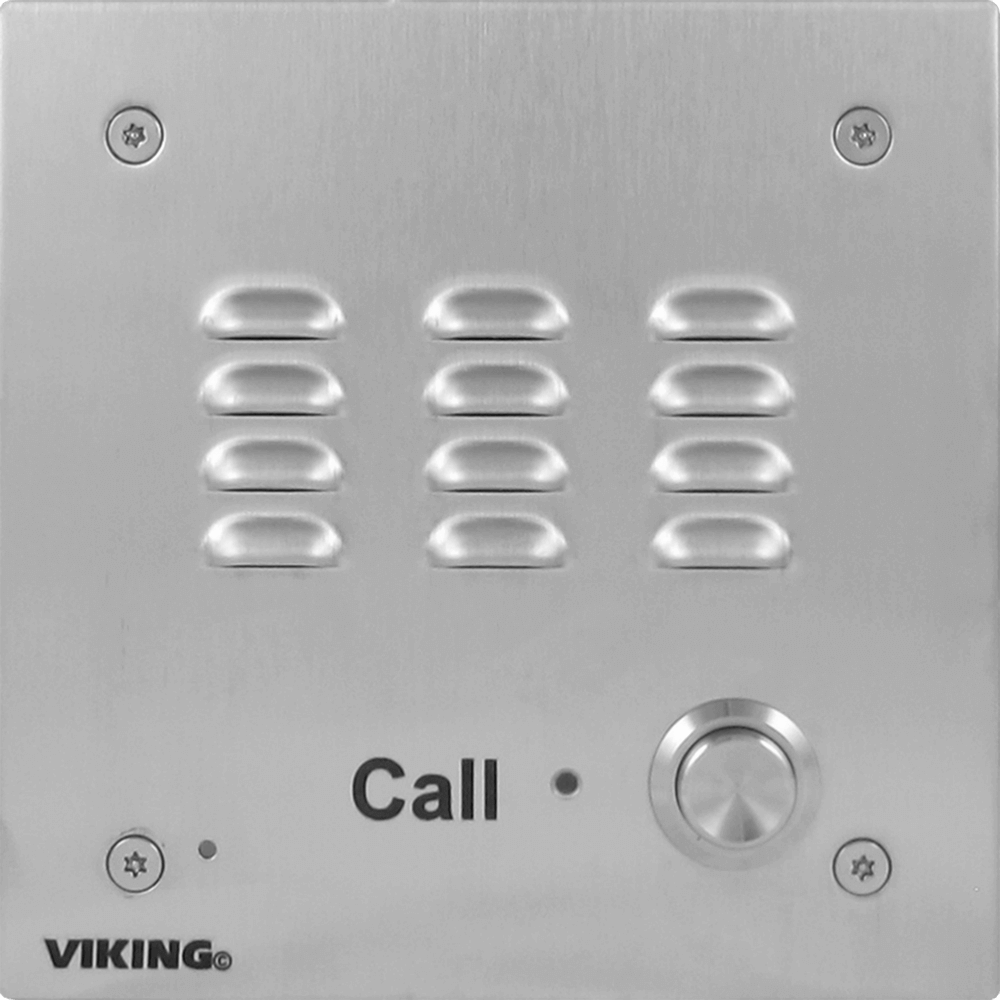 WARNING: THIS PHONE WILL NOT WORK ON A REGULAR PHONE LINE! Verify compatibility first!
Viking W-3000-EWP Features:
Vandal resistant, 14 gauge stainless steel faceplate
Heavy-duty metal push button and mounting gasket.
Flush mount using the included rough-in box or surface mount using an optional VE-5x5 backbox
Yellow call progress/ night light LED
New high output speaker amplifier with volume adjustment POT
Microphone volume adjustment POT
24 volt talk battery
20 Hz ring generator (3.0 REN ring load maximum)
Selectable ring cadence (standard or 2 short rings)
Selectable number of rings (2, 3, 10 or 30)
Selectable "Push-to-Talk" feature for noisy environments
Extended operating temperature range: -15°F to 130°F
Compact 45° terminal strip for easy wiring
W-3000-EWP has Enhanced Weather Protection GTIN 0615687222111
Door/Gate entry system for any phone system
Doorboxes generate up to ten rings on your telephones when the 'Call' button is pressed
Manufacturer Warranty: 2 Year Limited Warranty
Viking W-3000-EWP Applications:
Ideal for noisy locations in "Push-to-Talk" mode
Commercial, industrial or residential door security
Door or gate communication
Truck stop / gas station fuel island communication
Use with a Viking C-1000B Controller for single line residential systems or when the operation of door strikes or gate openers is necessary
Vikingtelecomsolutions.com, Inc. is a leading provider of Viking Electronics phone systems and equipment. We specialize in business phones and business phone systems for small to large companies; with phone systems for any application. We sell many of the brands in the IT, Telecom, Datacom, Electrical, and Industrial spaces.