$297.78
SKU: W-1000-EWP
Manufacturer Warranty
2 Year Limited Warranty
View full details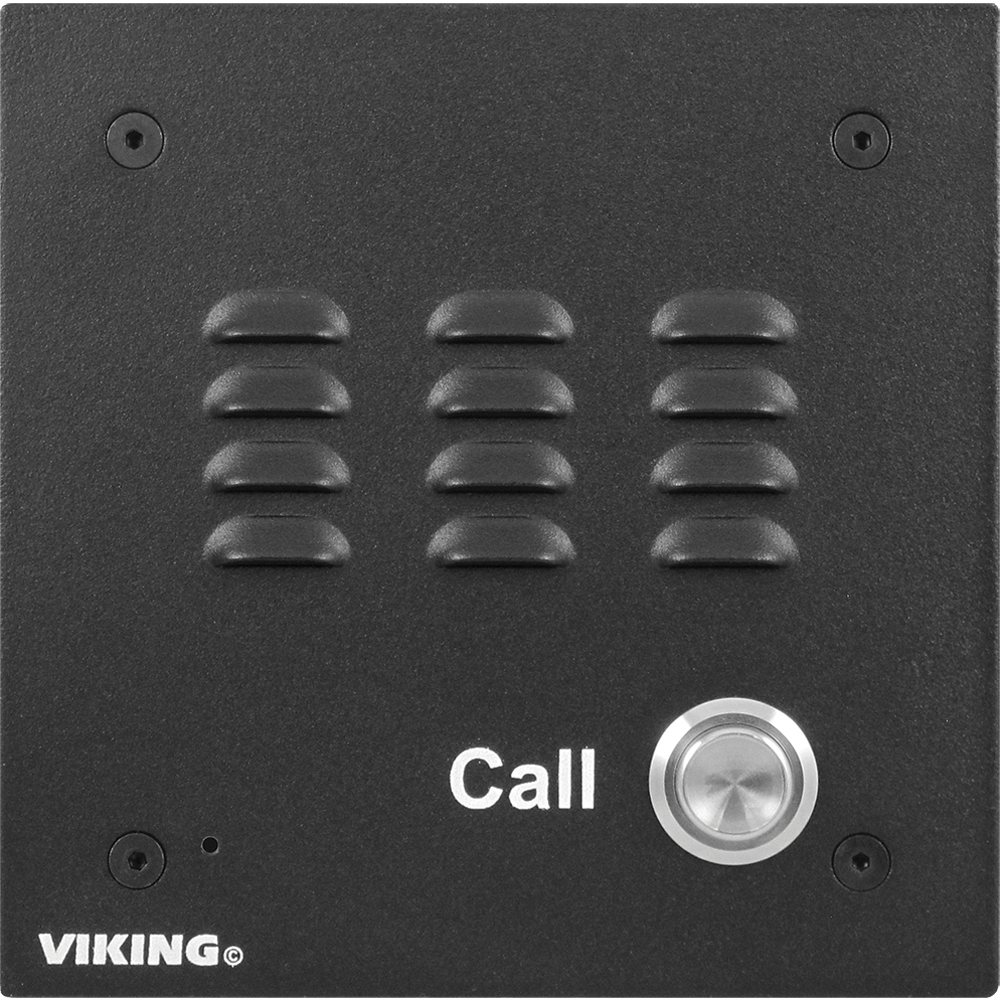 WARNING: THIS PHONE WILL NOT WORK ON A REGULAR PHONE LINE! Verify compatibility first!
Viking W-1000-EWP Features:
High output speaker amplifier with volume adjustment POT
Microphone volume adjustment POT
24 volt talk battery
20 Hz ring generator
Compact 45° terminal strip for easy wiring
Selectable number of rings (2, 3, 10 or 30)
Extended operating temperature range: -15°F to 130°F
Door/Gate entry system for any phone system
Add the VE-5X5 to allow the W-1000 to be surface mounted or attached to a gooseneck
Made in the USA
Provide your business or residential customers with the security and convenience of conversing with visitors from their own phone prior to allowing entry. Ideal for night doors, shipping/receiving departments, warehouses., residential applications or any security-sensitive entry, Designed to install on an unused trunk input on Electronic or IA2 single or multiline 'No KSU' phones and PABX. When the 'Call' button is pressed the unit rings the phones up to 10 times (adjustable) or until answered. Microphone volume is provided.
The door boxes provide 24V talk battery permiting loop lengths in excess of 6300 ft., using 24 AWG twisted pair. The power included can be mounted up to 150 ft. from the unit using 24 AWG twisted pair. The units provide 3 REN output (enough to ring six .5 REN phones). To ring additional phones use model, VI-RG-10A Ring Booster. Power supply included.
The Viking W-1000-EWP is a 5' x 5' vandal-resistant black powder painted aluminum flush mount unit. Provides standard ringing. An electrical mounting box is supplied.
Enhanced Weather Protection Option:
Includes weather-sealed trim pots and DIP switches, a special rubber microphone boot and a mylar speaker with a rubber gasket acting as a primary shield against water penetration. If required, face plate gaskets are provided to further eliminate water infiltration. All connections are hand soldered to eliminate corrosion, and the connections at the push button switch, microphone, and "Call Connected" LED are also hand sealed using a special non-corrosive electronics grade flexible silicone sealant. The entire circuit board is "potted" in a flexible urethane encapsulating material, leaving the weather sealed field-adjustable trim pots and DIP switches accessible for on-site programming. The flexible urethane sealant allows the circuit board and its components to expand and contract, while maintaining weather resistance. To protect the tip and ring connections, special connectors filled with anti-corrosive sealing gel are included.
Vikingtelecomsolutions.com, Inc. is a leading provider of Viking Electronics phone systems and equipment. We specialize in business phones and business phone systems for small to large companies; with phone systems for any application. We sell many of the brands in the IT, Telecom, Datacom, Electrical, and Industrial spaces.