$437.92
SKU: SLP-4
The Viking SLP-4 allows you to page family members or co-workers from any phone in your home or small office. The pages can be heard over the same paging speakers that are installed for multi-zone music distribution.
The Viking SLP-4 provides inputs for 4 lighted doorbell switches. The inputs select 4 different CD quality sounds from a library of eight factory recordings including Westminster bells, chimes, alert tones, barking dogs, etc. Alternatively, users may record their own CD quality sounds into the SLP-4 from their PC's USB port. When the doorbell switch is pressed, background music is muted while the appropriate sound is heard over the paging system speakers.
The Viking SLP-4 connects in series with a single existing phone line. The unit has a built-in 2 watt amplifier, pre-amp output, music on hold input, intercom features, and selectable loud ringing.
View full details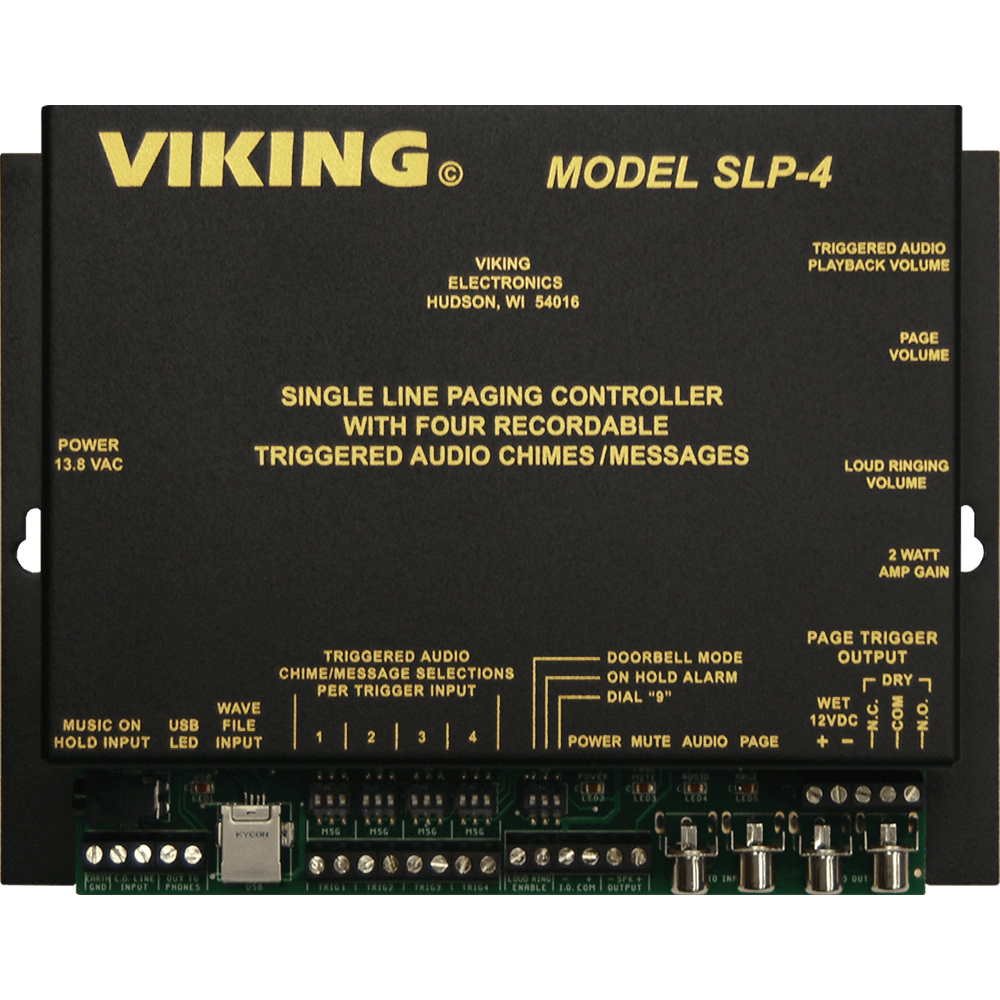 Viking SLP-4 Features:
Factory loaded CD quality Westminster door chimes
Stereo line level pre-amp inputs/outputs for whole house audio systems
Built-in two-watt mono paging amplifier with gain control
Phone to phone intercom
Place callers on music-on-hold when paging
Can provide background music from an external source
Background music mute (automatic during paging or touch tone selectable while on a call)
Selectable loud ringing (electronic warble over speakers)
Four doorbell switch inputs (lighted or non-lighted) for activating door chimes
USB port for loading custom WAV file chime tones/sounds/music
6 minutes of recorded audio storage
Switch selectable on-hold alarm tones
Page trigger output (12V signal for enabling paging source input on multi-source amps)
Individual Chime, Page, and Ringing volume controls
Bypass code ignores all touch tones on next off-hook allowing user to steer through auto attendants, etc.
Page from multiple phone lines by connecting multiple units
Other door sounds: ding-dong, knocking, tones, barking
UL listed power adapter provided
Manufacturer Warranty 2 Year Limited Warranty
Viking SLP-4 Applications:
Whole house / small business paging from existing phones
Add paging, intercom, and music on hold features for small businesses
Loud ringing / night bell
Museum or Info Center, 4 button audio server

Viking SLP-4 Specifications

Power: 120V AC/13.8V AC 1.25A, UL listed adapter provided
Dimensions: 8.25" x 6.25" x 1.75" (210mm x 159mm x 45mm)
Environmental: 32°F to 90°F (0°C to 32°C) with 5% to 95% non-condensing humidity
Paging Amplifier Output: 2 Watts – powers up to (3) 8 Ohm (16) 45 Ohm speakers
Sound Pressure: 100 dB @ 1 meter (loud electronic warble from 25AE paging horn)
REN: 0.5A
Maximum Speaker Output Wire Run: 300 ft (91m), 18 AWG
Maximum Doorbell Switch Wire Run: 1000 ft (305m), 24 AWG
Maximum Load on Page Trigger Output: 1K Ohm
Talk Battery: 36V DC
WAV File Resolution: 16 bit or 8 bit
WAV File Sampling Rate: 44.1K, 22K, or 11K
Connections: 24 screw terminal block positions, (4) RCA jacks, (1) Type B USB jack, (1) 3.5mm (1/8") audio jack
Vikingtelecomsolutions.com, Inc. is a leading provider of Viking Electronics phone systems and equipment. We specialize in business phones and business phone systems for small to large companies; with phone systems for any application. We sell many of the brands in the IT, Telecom, Datacom, Electrical, and Industrial spaces.