$156.79
SKU: RC-2A
The Viking RC-2A provides remote relay operation from any standard touch tone telephone.
The Viking RC-2A can be installed either locally or remotely. The VikingRC-2A can be installed in parallel on any analog communications path, such as analog CO lines, analog phone systems stations or with Viking's W-Series Door boxes and will passively monitor for touch tone commands for local installations. The Viking RC-2A will answer analog CO lines or PABX / KSU stations after a selectable ring delay for off-premise applications. A field programmable access code can be programmed to prevent unauthorized usage, then the RC-2A can be activated to allow remote relay operation.
View full details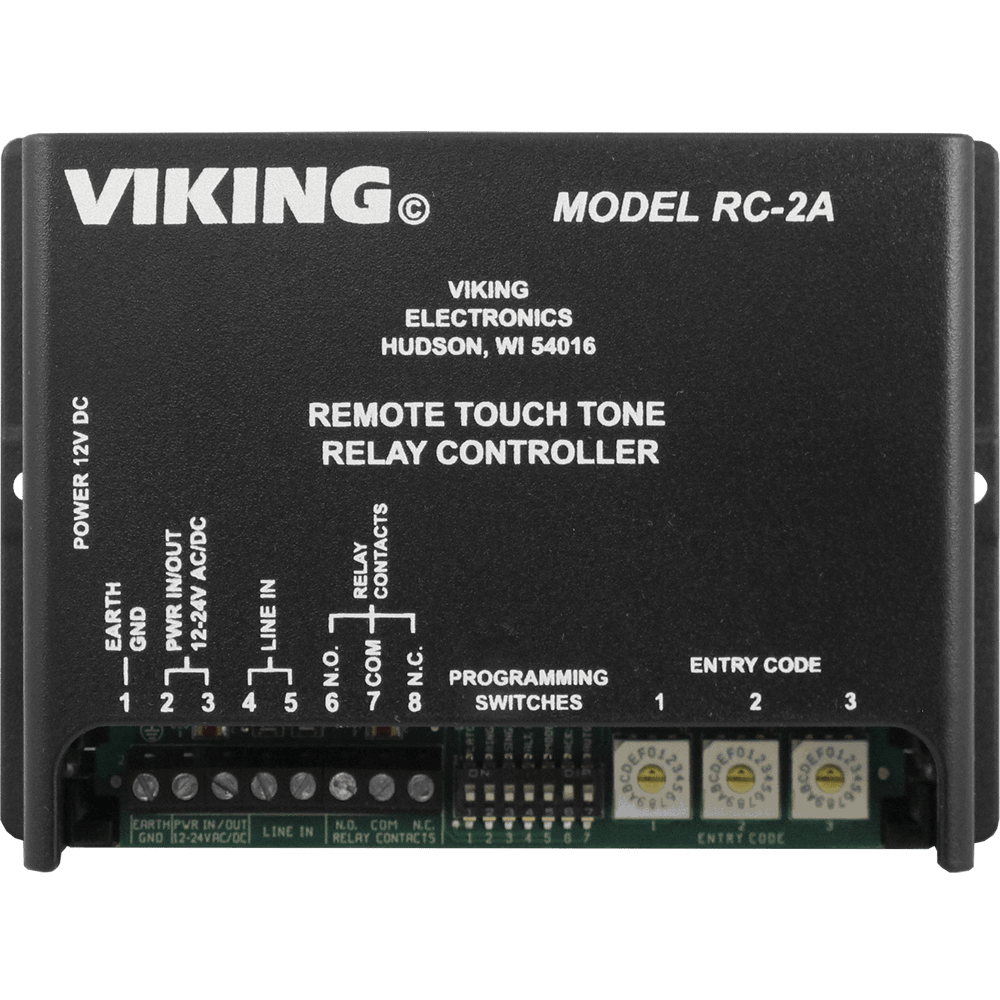 Remote Door Controller provides remote relay operation from any standard touch tone telephone.
Viking RC-2A Features:
Programmable access code
SPDT relay
Selectable relay closure times
Selectable ring delay: 1, 2, 6, or 15
Universal 12-24VAC/DC power input
Easy installation with screw terminals and dip switch programming
Automatic disconnect or return to secure mode after 60 seconds
Power multiple units from one adapter
Manufacturer Warranty 2 Year Limited Warranty
Viking RC-2A Specifications:
Power: 120VAC / 12VDC 500mA UL listed adapter provided or 12 – 24VAC/DC 200mA
Dimensions: 5.25″ x 3.5″ x 1.75″ (133mm x 89mm x 44mm)
Shipping Weight: 2 lbs (0.9 kg)
Operating Temperature: -40°F to 160°F (-40°C to 70°C)
Humidity: 5% to 95% non-condensing
SPDT Relay Contact Ratings: 5A @ 30VDC / 5A @ 250VAC, 250VAC maximum
Connections: (8) cage clamp screw terminals
Viking RC-2A Certifications:
Vikingtelecomsolutions.com, Inc. is a leading provider of Viking Electronics phone systems and equipment. We specialize in business phones and business phone systems for small to large companies; with phone systems for any application. We sell many of the brands in the IT, Telecom, Datacom, Electrical, and Industrial spaces.