$109.03
SKU: Q171270
Usually ships in 4 to 5 weeks
Manufacturer Warranty
2 Year Limited Warranty
View full details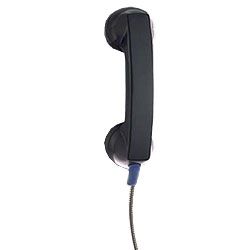 6 Wire Amp Black Handset with Armored Cable for Newer Versions of Viking Phones Model's K-1900-7 and the K-1900-8.
Handset Features:
Note: Older style with Pin # 258543A-L has to be used 4 wires (Model # Q170980) vs the new style with Pin # 260245 has to be used with 6 wires (Model # Q171270)
Vikingtelecomsolutions.com, Inc. is a leading provider of Viking Electronics phone systems and equipment. We specialize in business phones and business phone systems for small to large companies; with phone systems for any application. We sell many of the brands in the IT, Telecom, Datacom, Electrical, and Industrial spaces.