$337.15
SKU: PRX-5
Usually ships in 5-7 business days
Viking's PRX-5 is designed to vertically mounted to metal doors, window frames or any flat surface. The Viking PRX-5 ideal for applications requiring an access credential and/or personal identification number (PIN).
View full details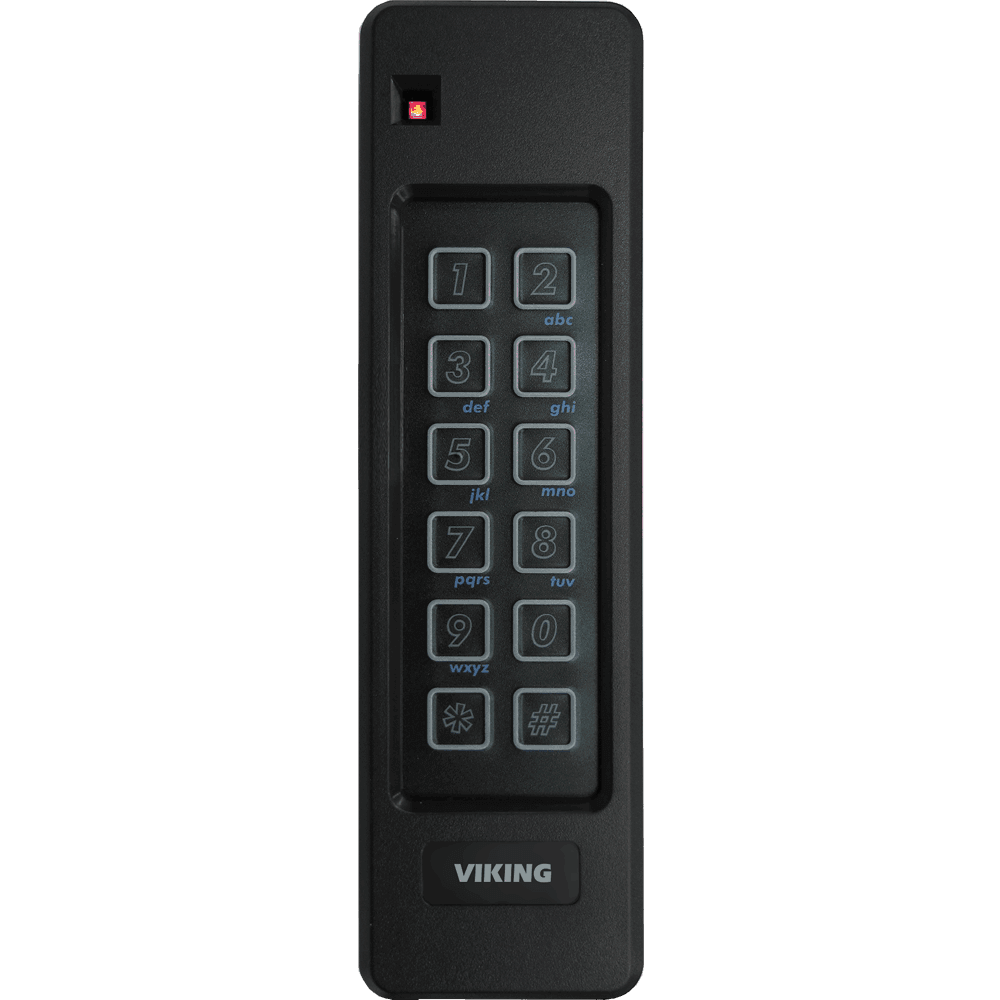 PRX-5 Features:
Read range of up to 6 inches with Proximity cards, 3" with PRX-FOB
Reader Format: 26-bit Wiegand
Keypad Formats: 26-bit Wiegand (default) and 8-bit burst
PRX-5 is designed to meet IP66 Ingress Protection Rating
Pigtail connection for easy installation
Red LED shows activity
Beep tones acknowledge key strokes
Programmable Facility Code stored in non-volatile memory (no batteries required)
Designed for outdoor use, the PRX-5 comes standard with Enhanced Weather Protection (EWP)
Can be mounted directly to a metal surface
PRX-5 Specifications:
Power: 5-16V DC 70mA - average, 110mA - peak
Dimensions: 6.1" x 1.78" x 0.91" (155mm x 45mm x 23mm)
Environmental: -40°F to 149°F (-40°C to 65°C) with up to 100% humidity
Connections: 18" long pigtail leads, 22 gauge
Read Range: Up to 5 inches (152 mm)
Input Voltage: +5 to 16 VDC
Current Draw: 70 mA typical, 110 mA peak
LED Indicator: Four-state standard: red/green/amber/off
Audio Tone: Standard
Frequency: 125 KHz excitation
Reader Formats: Wiegand (26-bit industry standard) and
ABA Track II magnetic stripe (clock/data)
Keypad Formats: 8-Bit Burst and 26-Bit Wiegand (default)
Compatible Products:
AES-2000 Accessible Entry System
AES-2005 Accessible Video Entry System
C-4000 Apartment/Office Entry Controller
ES-1 Stand Alone Keyless Entry System
ES-3 Entry System Door Controller
K-1200-IP VoIP Entry phone, Keypad, 12 Number Auto Dialer, Keyless Entry
K-1700-IP VoIP Entry phone, Keypad, Auto Dialer, Keyless Entry
K-1900-8-IP VoIP Entry Phone with Handset and Keypad
PRX-C Proximity Card
PRX-C-ISO Thin Proximity Card
PRX-FOB Proximity Key Fob
LRT-4 Long Range Transmitter with Proximity Module
Vikingtelecomsolutions.com, Inc. is a leading provider of Viking Electronics phone systems and equipment. We specialize in business phones and business phone systems for small to large companies; with phone systems for any application. We sell many of the brands in the IT, Telecom, Datacom, Electrical, and Industrial spaces.