$117.24
SKU: PRX-1
Usually ships in 5-7 business days
The Viking PRX-1 is a 125KHz proximity reader and is designed to be mounted directly to a metal door or window frame (mullions), making it ideal for applications requiring an access credential. The proximity reader transmits data in 26-Bit Wiegand format, making it compatible with any of Viking's Wiegand equipped entry controllers.
View full details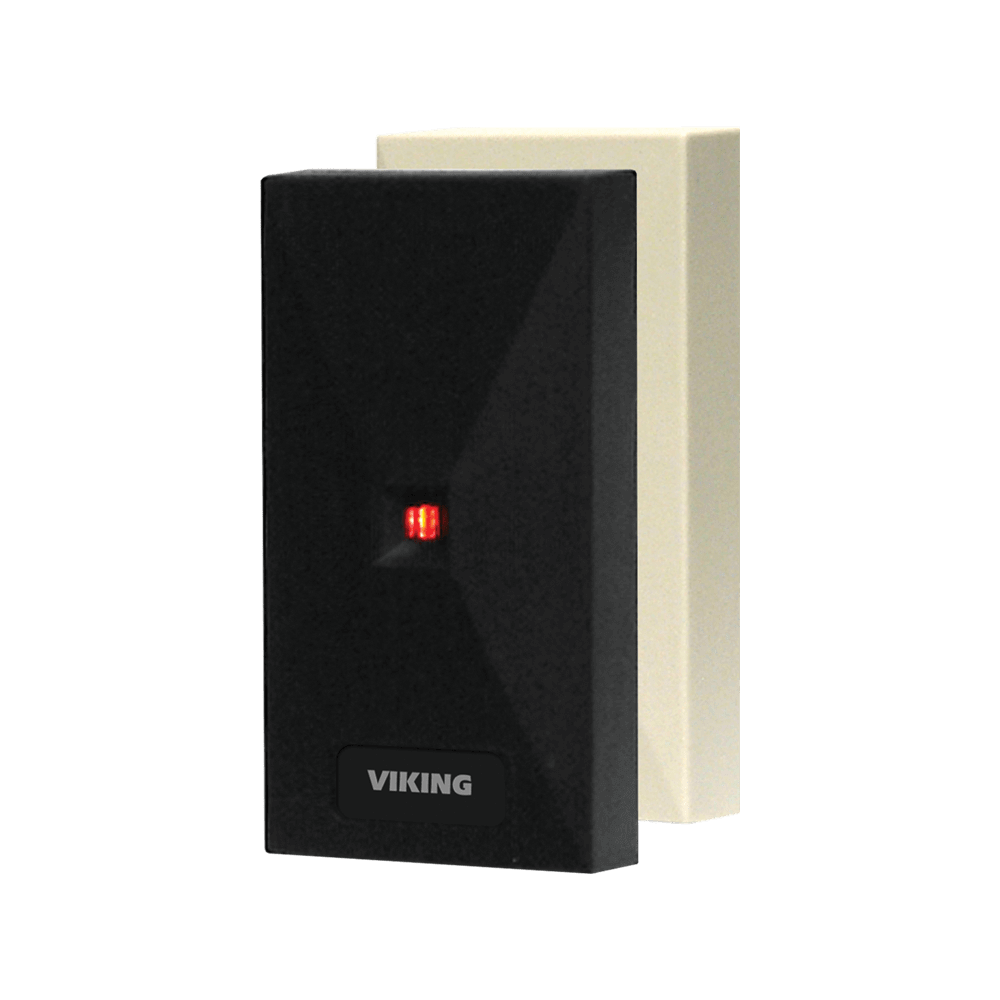 Viking PRX-1 Features:
Read range of up to 6 inches
Standard 26-bit Wiegand interface
Technologies supported: Viking PRX-C, PRX-C-ISO, PRX-FOB, LRT-4 certain legacy HID® proximity protocols* and certain AWID 125Khz proximity protocols**
Compact size allows mounting to mullion, door or window frame
Designed for outdoor use, the PRX-1 comes standard with Enhanced Weather Protection (EWP) (see DOD# 859 for more information)
PRX-1 is designed to meet IP66 Ingress Protection Rating
Pigtail connection for easy installation
Red LED indicates power and flashes off during card read
Transducer provides beep during card read
CE marked
Manufacturer Warranty: 2 Year Limited Warranty
* HID and the HID logo are registered trademarks of HID Global Corporation, an ASSA ABLOY company. All other trademarks are the property of their respective owners.
** AWID is a trademark of Applied Wireless Identification Group.
Viking PRX-1 Application:
AES-2000 Accessible Entry System
AES-2005 Accessible Entry System with Video
C-4000 Apartment/Office Entry Controller
ES-1 Stand Alone Keyless Entry System
PRX-C Proximity card
PRX-C-ISO Thin proximity card
PRX-FOB Proximity Key FOB
LRT-4 Long range transmitter with proximity module
Viking PRX-1 Specifications:
Power: 5-14V DC 45mA - average, 80mA - peak. Dimensions: 3.2" x 1.7" x 0.7"(80mm x 43mm x 17mm )
Environmental: -40° F to 150° F(-40° C to 65° C) with 5% to 95% non-condensing humidity Connections: 18" long pigtail leads, 24 gauge
Technologies Supported: Viking PRX-C, PRX-C-ISO, PRX-FOB, certain legacy HID® proximity proto-cols* and certain AWID 125Khz proximity protocols**
Vikingtelecomsolutions.com, Inc. is a leading provider of Viking Electronics phone systems and equipment. We specialize in business phones and business phone systems for small to large companies; with phone systems for any application. We sell many of the brands in the IT, Telecom, Datacom, Electrical, and Industrial spaces.