$770.57
SKU: PA-250-IP
Usually ships in 4 to 10 weeks
The Viking PA-250-IP SIP provides up to 250 watts of loud paging for SIP based VoIP phone systems (hardware or hosted/cloud based service provider). The PA-250-IP can be used for standard SIP endpoint paging or multicast paging.
View full details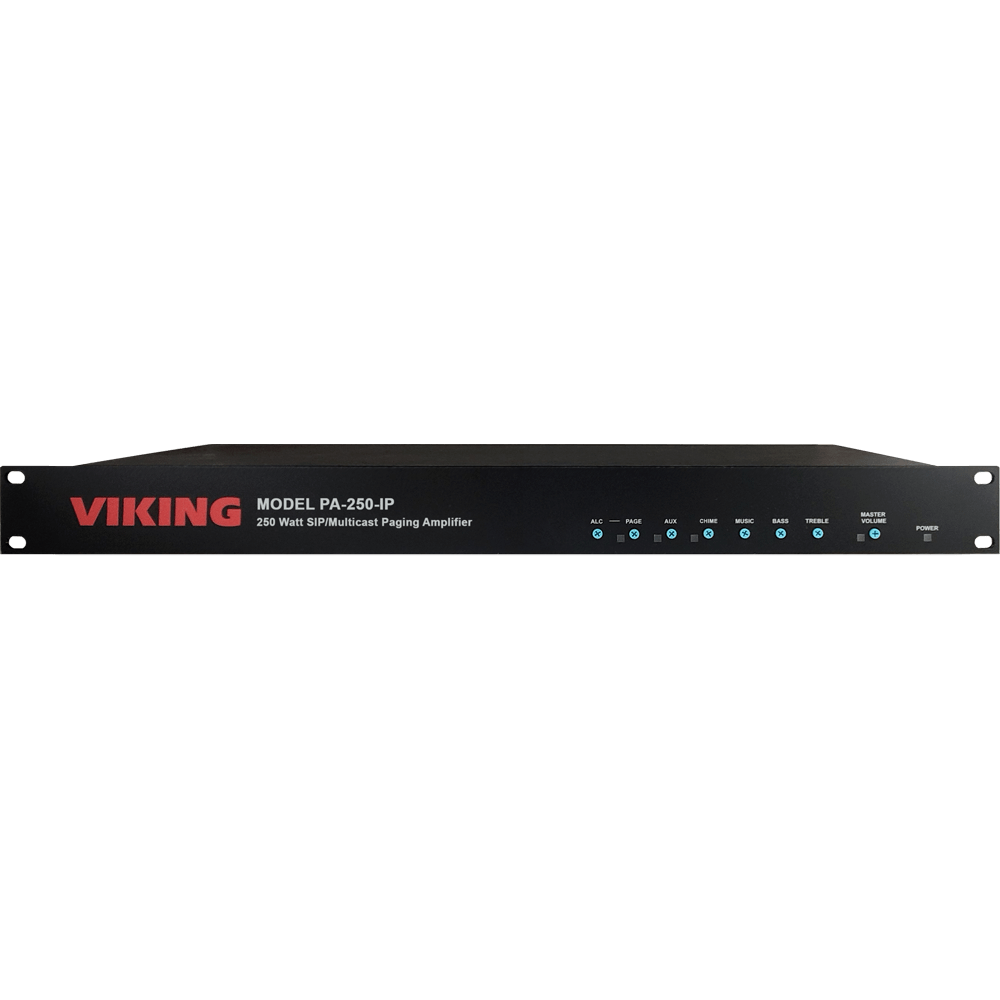 Viking PA-250-IP Features:
SIP compliant
SIP endpoint or multicast group member
SIP/Multicast: SIP page, SIP page and zoned multicast receive
Plays audio from standard multicast sources
Compatible with Polycom multicast paging
Red "Page/Status" LED indicator
Network downloadable firmware
Support for access code to prevent unwanted SIP calls
Network remote volume control
Paging prioritization
Programmable pre-page alert tone
Powerful 70V amplifier drives up to 250 Watt load
Door chime trigger input
Auxiliary and background music inputs
Individual and master volume controls
Bass and treble controls
LEDs show audio level and activity
Provides loud ringing
600 Ohm output to drive additional amplifiers
Adjustable Automatic Level Control
Peak limiter and multiple protection modes
Viking PA-250-IP Applications
Amplified SIP endpoint or multicast IP paging for: schools, hospitals, retail stores, office spaces, etc.
Provide multicast background music and sound masking
Paging systems requiring 8 to 250 speakers
Installations that can utilize the below advantages of a 70V distributed audio system:
– Allows for longer wire runs using smaller gauge speaker wire to save costs
– Many more speakers can be connected on the same wire run to save costs
– Each speaker's volume can be individually set using its own power taps

Viking PA-250-IP Specifications

Power: 100V to 240V AC, 50 to 60Hz
Dimensions: approx. 19" x 1.75" x 6" (483mm x 44.5mm x 153mm)
Environmental: 0°C to 32°C (32°F to 90°F) with 5% to 95% non-condensing humidity
SIP Audio Codecs: G711u, G722 and G711a
Multicast Audio Codecs: G711u and G722
Network Compliance: IEEE 802.3 af PoE, SIP 2.0 RFC3261, 100BASE-TX with auto cross over
Regulatory Compliance: CE, FCC Part 15 and Canada ICES-003 Class A
Frequency Response: 55 – 18,000 Hz (+/- 10 dB)
Connections: (1) RJ45 10/100 Base-T, (1) 3.5mm, (2) IEC C8 AC power inlets, (11) removable cage clamp screw terminals
Power Cord: Dual IEC C7 plugs "Y" power cord included

Viking PA-250-IP Certifications

Canada ICES
FCC Part 15
SIP
VoIP SIP System Compatibility List:
3COM VCX
3CX
Aastra
Asterisk
Atcom
Avaya IP Office
BlueBox
Brekeke
Cisco Unified Communications Manager (CUCM)
Freeswitch
Grandstream
iptel.org
Kamailio
MetaSwitch
OfficeSIP
OpenSIPS
Panasonic
Samsung Communications Manager (SCM)
ShoreTel
Siemens Communications Server (SCS)
SIP Express Router (SER)
sip.antisip.com
Snom PBX
Sonus
Switchvox
Teksip
Toshiba
VoIP.ms
Vonage
Vikingtelecomsolutions.com, Inc. is a leading provider of Viking Electronics phone systems and equipment. We specialize in business phones and business phone systems for small to large companies; with phone systems for any application. We sell many of the brands in the IT, Telecom, Datacom, Electrical, and Industrial spaces.