$617.26
SKU: PA-250
The Viking PA-250 is powerful enough to drive up to 250 - 70V speakers or paging horns. The Viking PA-250 is 3 times more efficient than old designs competitors use. A small 1U rack size made possible because the Viking PA-250 uses new amplifier technology. High efficiency means much less heat dissipation.
View full details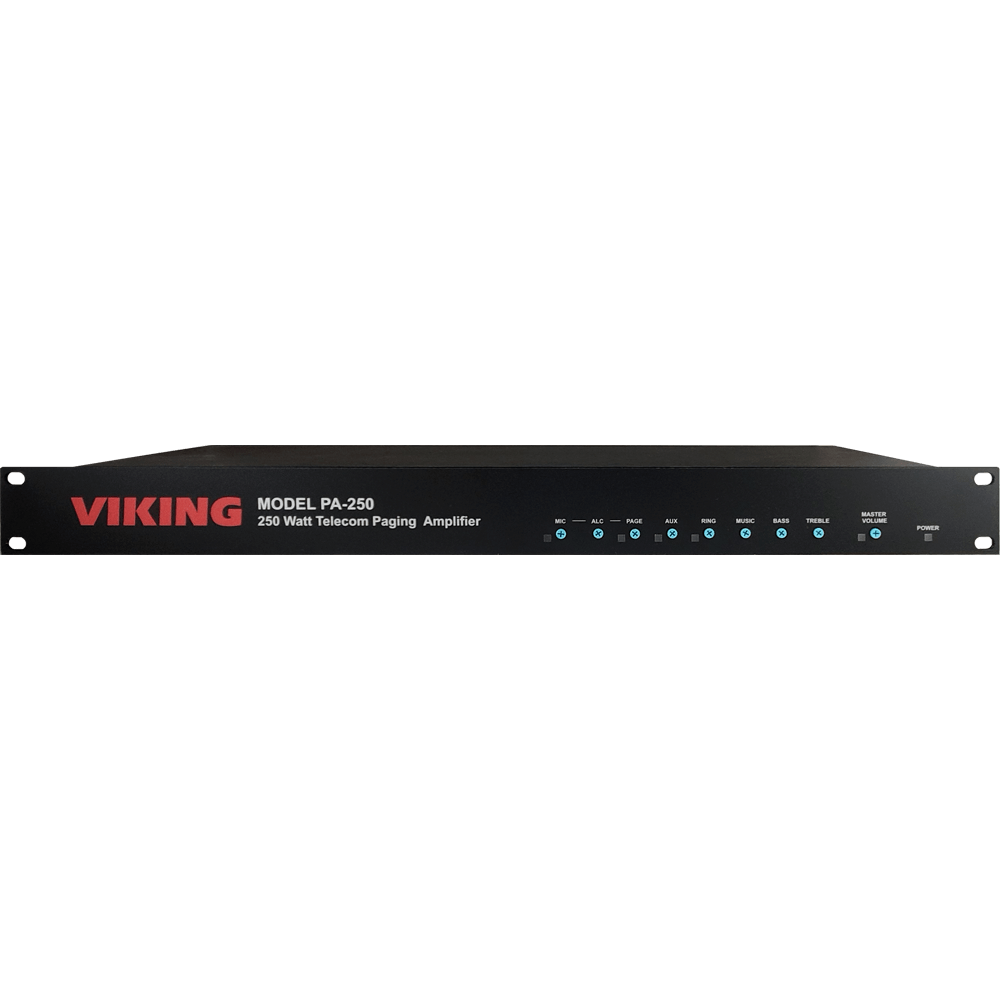 Viking PA-250 Features:
Powerful 70V amplifier drives up to 250 Watt load
Page from any analog telecom port, or a direct microphone
Auxiliary and Background Music inputs
Individual and Master volume controls
Bass and Treble controls
LEDs show audio level and activity
Programmable input priorities
Chose between 3 different chime sounds
Provides Loud Ringing / Night Bell
Night Transfer switch input
600 Ohm output to drive additional amplifiers
Adjustable Automatic Level Control
Peak limiter and multiple protection modes
Manufacturer Warranty 2 Year Limited Warranty
Viking PA-250 Applications
Paging systems requiring 8 to 250 speakers
Paging from virtually any POTS, Centrex PABX, digital or IP phone system's analog port
Installations that can utilize the below advantages of a 70V distributed audio system:
– Allows for longer wire runs using smaller gauge speaker wire to save costs
– Many more speakers can be connected on the same wire run to save costs
– Each speaker's volume can be individually set using its own power taps
Viking PA-250 Specifications:
Power: 100V to 240VAC 50 to 60Hz
Dimensions: approx. 19" x 1.75" x 6" (483 mm x 44.5 mm x 153 mm)
Environmental: 0°C to 32°C (32°F to 90°F) with 5% to 95% non-condensing humidity
Talk Battery: 42V DC
Paging Output: Capable of driving 250 watt load of 70V speakers
Connections: (1) 3.5 mm (1/8″) audio jack, (22) removable cage clamp screw terminals, (2) IEC C8 AC power inlets
Power Cord: Dual IEC C7 plugs "Y" Power Cord included
Vikingtelecomsolutions.com, Inc. is a leading provider of Viking Electronics phone systems and equipment. We specialize in business phones and business phone systems for small to large companies; with phone systems for any application. We sell many of the brands in the IT, Telecom, Datacom, Electrical, and Industrial spaces.