$106.15
SKU: LSR-1
Why pay for a dedicated line for your elevator/emergency phone or alarm panel?
The Viking LSR-1 Line Seizure Relay allows the user to share an existing phone line with an emergency phone or other priority alarm device. This can save hundreds of dollars a year over leasing a dedicated phone line.
The VikingLSR-1 can be used on any C.O. line or analog PABX/KSU station.
Important: When the emergency device is in use, the phone line is not available for normal use. Any additional emergency calls will have to be made on another phone line. For this reason the LSR-1 is not recommended for single line applications.
Note: Connecting more than one set of microphone and speaker combinations to the LSR-1 may infringe on US Patent 5,386,463.
View full details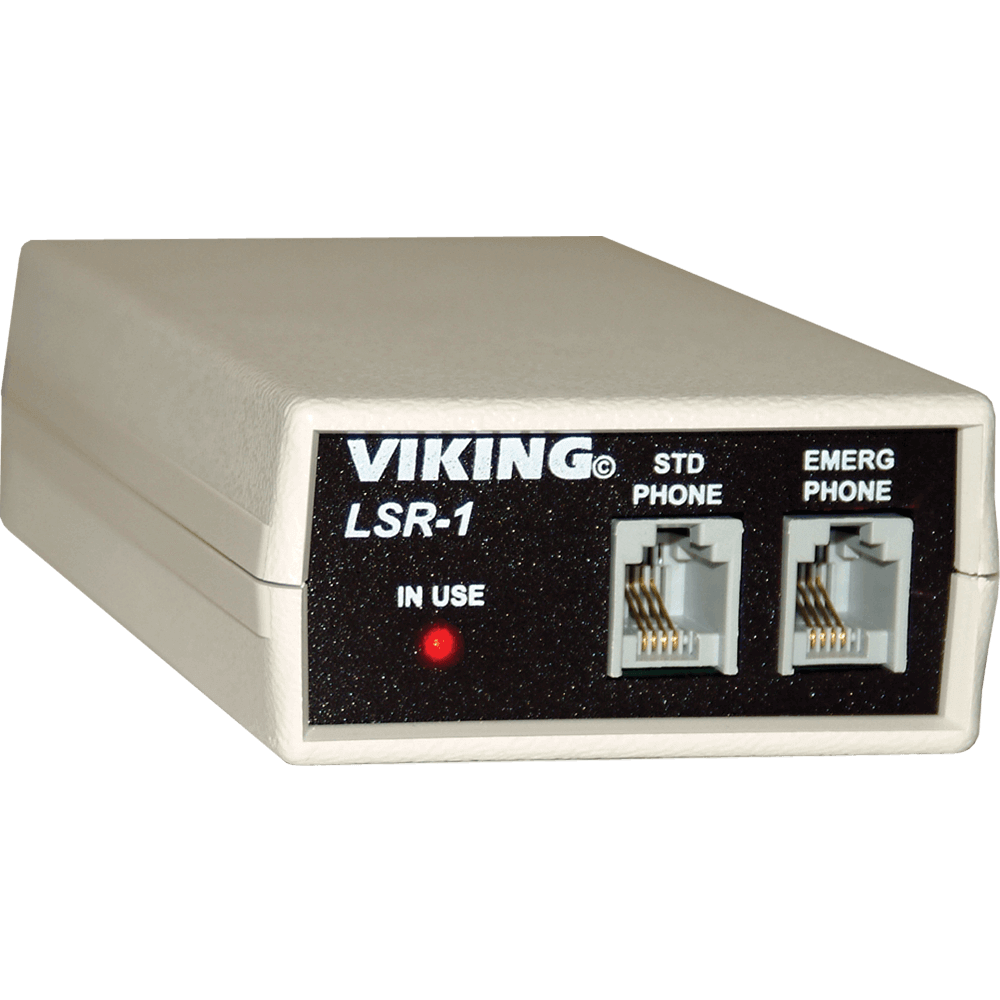 Viking LSR-1 Features:
Interrupts any call in progress and returns fresh dial tone to the emergency phone
Can be used on any C.O. line or analog PABX/KSU station
Modular connections for easy installation
Operates on any 12 - 32V DC power source
12V DC adapter provided
During power outages the line is connected directly to the emergency device
Off hook detection LED for emergency device port
Handy test button to simulate an emergency device off hook
UL listed power adapter provided
Manufacturer Warranty
2 Year Limited Warranty
Viking LSR-1 Applications:
Emergency phones in elevators, hallways, parking ramps, etc.
Security systems or alarm panels with dialers
Cash machines, credit card readers or any other device that requires instant access to a phone line
Viking LSR-1 Specifications:
Power: 120V AC / 12V DC, 500mA UL listed adapter provided
Dimensions: 4.7" x 1.4" x 2.8" (119mm x 36mm x 71mm)
Temperature: 32°F to 90°F (0°C to 32°C)
Humidity: 5% to 95% non-condensing humidity
Talk Battery: 32 V DC
Connections: (2) RJ11 jacks, (1) RJ11 plug
Vikingtelecomsolutions.com, Inc. is a leading provider of Viking Electronics phone systems and equipment. We specialize in business phones and business phone systems for small to large companies; with phone systems for any application. We sell many of the brands in the IT, Telecom, Datacom, Electrical, and Industrial spaces.