$430.81
SKU: LC-6
Usually ships in 3-4 weeks
The Viking LC-6 eliminates the monthly charges for a dedicated line to multiple elevators. It is designed to be used with Viking's E-1600A series elevator phones. You can connect up to 6 emergency phones which can communicate with authorized personnel on three other phones in the same building. Add a telephone line to communicate outside the building. The emergency phone can initiate a internal or outbound call or both. Any other phones that are activated will be bridged with authorized personnel, thus fulfilling ASME A17.1 requirements.
View full details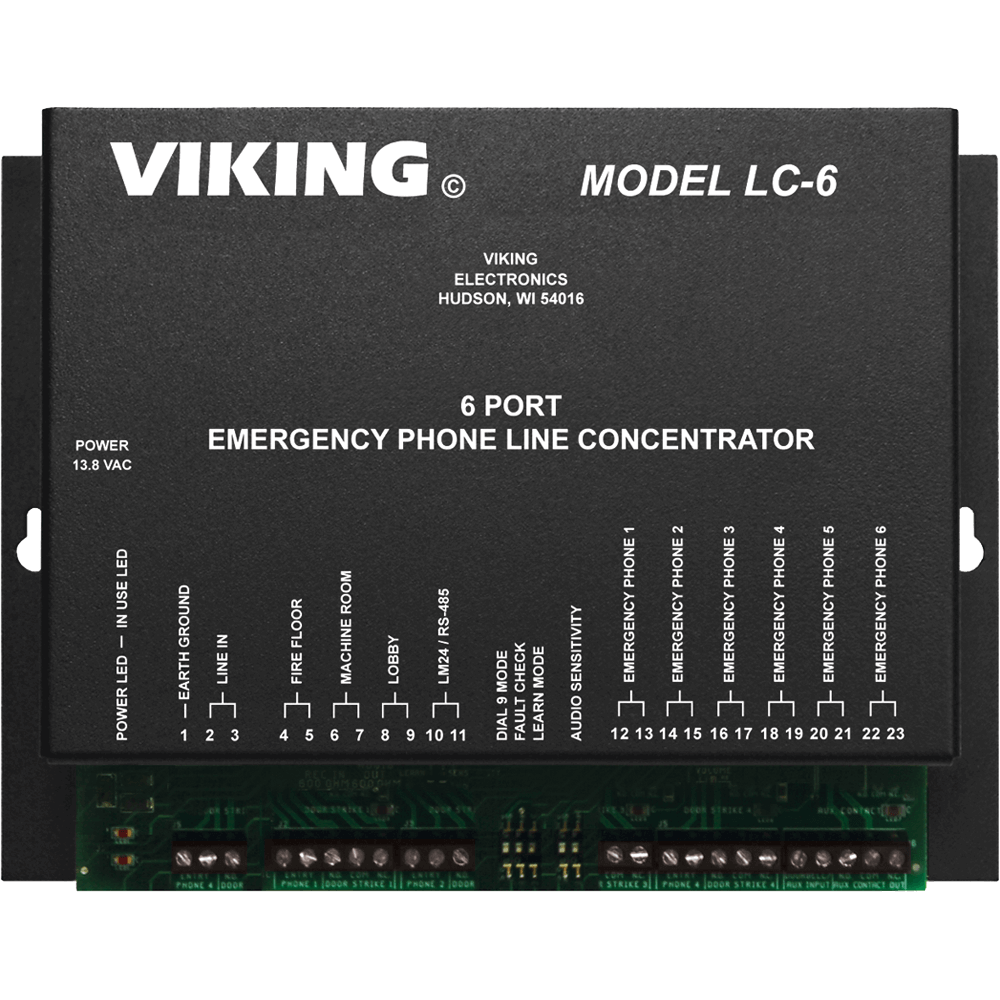 LC-6 Features:
Connects up to (6) emergency phones
Communicate with local and remote authorized personnel
Automatic answering of inbound calls
Touch Tone conferencing
Separate Fire Floor phone port
Machine Room phone and Lobby phone ports
Accommodates the re-dialing feature of the
Viking 1600A Series phones
Programmable daily line verification check
Manufacturer Warranty: 2 Year Limited Warranty
Viking LC-6 Applications:
Elevator phones
Emergency phones
Area-of-Refuge phones
E-30 courtesy phones
Viking LC-6 Specifications:
Power: 120V AC/13.8V AC UL listed adapter provided
Dimensions: 8.25" x 6.25" x 1.75" (210 mm x 159mm x 45 mm)
Environmental: 32 F to 90 F (0 C to 32 C) with
5% to 95% non-condensing humidity
Maximum LM-24D Wire Length: 500 ft(152m) with #24 gauge wire
Maximum LV-1K Wire Length: 2000 ft (610m) with #24 gauge wire
Battery Backup: Greater than 4 hours when using
TRIPP-LITE model INTERNET550U (not included)
Connections: 25 screw terminal block positions
Vikingtelecomsolutions.com, Inc. is a leading provider of Viking Electronics phone systems and equipment. We specialize in business phones and business phone systems for small to large companies; with phone systems for any application. We sell many of the brands in the IT, Telecom, Datacom, Electrical, and Industrial spaces.