$343.27
SKU: K-2000-DVA
Viking's K-2000-DVA is a fully programmable multi-input, multinumber auto dialer and digital announcer, designed for emergency and non-emergency message notification. The K-2000-DVA has eight dry contact inputs, each of which can dial up to eight 32-digit phone numbers and play a message up to one minute in length specific to that input. The messages can be recorded locally or remotely.
View full details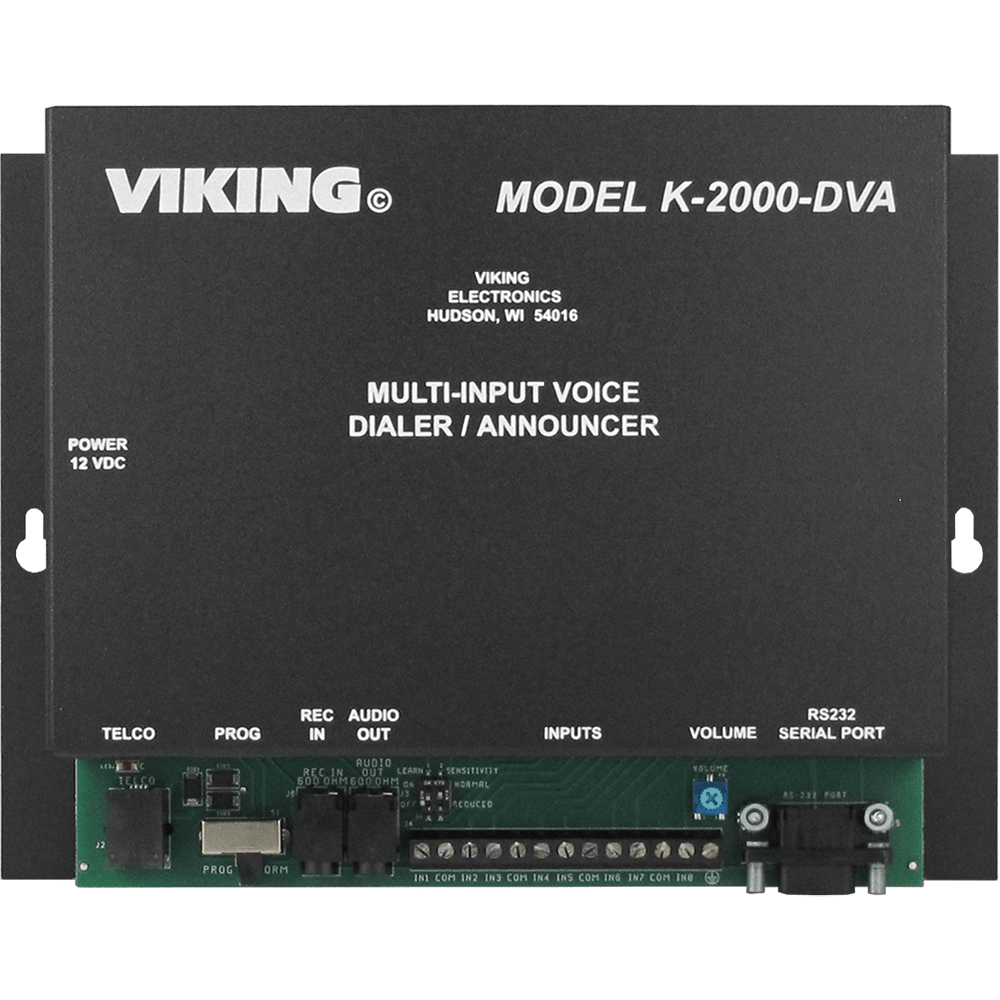 Viking K-2000-DVA Features:
Non-volatile E2 memory (no batteries required)
Stores up to eight 32-digit numbers (sixty four 32-digit numbers total)
8 minutes of record time (1 minute per input)
Programmable message repeat counter
Programmable lap counter
Eight inputs programmable as normally open or normally closed and enabled or disabled
Programmable ring delay for remote programming and alarm polling
Programmable qualifier timer for each input (time for an event to be qualified as an alarm)
Programmable resume timer for each input (time following reset for input to become active again)
Call progress detection capability with normal and fast busy, call pickup, CPC, and ring-no-answer detection as an alarm dialer
Programmable ringback limit for call progress
Remote security and access codes
Local or remote programming and recording
RS-232 port for programming via a PC
Manufacturer Warranty 2 Year Limited Warranty
Viking K-2000-DVA Applications:
Security / burglar / fire alarm notification
System alarm or equipment malfunction notification
Operating temperature warning notification
Contacting personnel via numeric pagers
Store Caster to provide assistance (i.e.: "Customer assistance needed in aisle 13…") or promotional announcements in:
Department stores
Grocery stores
Hardware stores
Gas stations, etc.
Vikingtelecomsolutions.com, Inc. is a leading provider of Viking Electronics phone systems and equipment. We specialize in business phones and business phone systems for small to large companies; with phone systems for any application. We sell many of the brands in the IT, Telecom, Datacom, Electrical, and Industrial spaces.