$501.44
SKU: K-1900-812L
The K-1900-812L hot-line panel phone can either auto-dial a phone number each time the handset is lifted, be used as a multi-number auto-dialer, or be used as a standard touch tone phone. The hot-line unit will touch tone or pulse dial and will not auto-dial on incoming calls.
The K-1900-812L hot-line phone features a 12″ armored cable with an internal stainless steel lanyard for increased strength and vandal resistance. The phone housing consists of a heavy gauge stainless steel panel, metal touch tone keypad, armored cable, heavy duty handset, and all metal cradle. The K-1900-812L hot-line panel phone can be easily touch tone programmed at the shop or installation site. All programming is stored in non-volatile memory.
For outdoor installations where the unit is exposed to precipitation or condensation, use model K-1900-812L-EWP. For more information on Enhanced Weather Protection (EWP)
View full details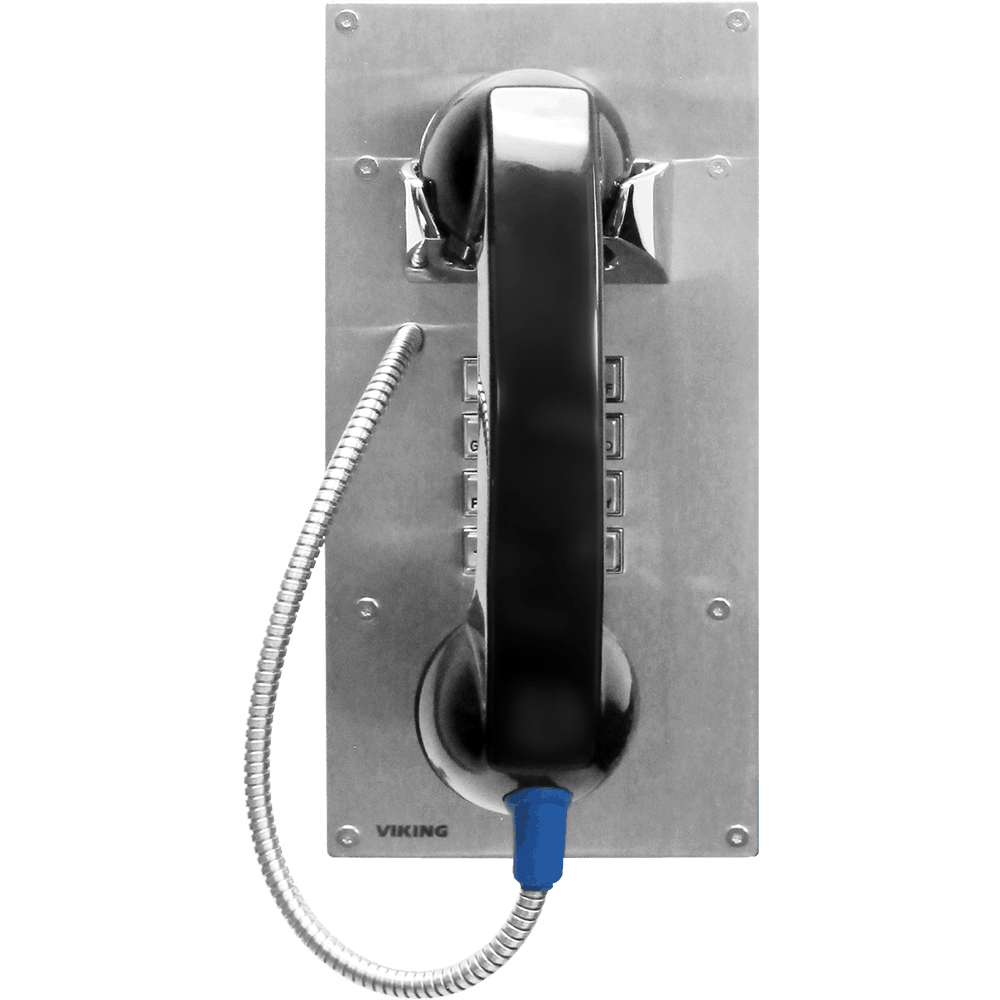 Viking K-1900-812L Features:
Vandal Resistant Features:

12 gauge (0.105″ thick) 316 stainless steel panel with permanent laser etched graphics
Armored handset cable
Metal cradle
Heavy duty metal keypad
Hex drive mounting screws

Weather Resistant Features:

Marine grade 316 stainless steel faceplate and screws
Internally sealed keypad

Auto dials one programmable speed dial number (up to 32 digits)
Multi-number dialer mode adds 5 speed dial numbers (up to 16 digits)
Touch tone or pulse dialing
Non-volatile memory, no batteries required
Operates on analog PABX and key system extensions or analog Centrex and CO lines
Programmable 6 digit security code
Touch tone programmable
Armored 12″ handset cable with an internal stainless steel lanyard for additional cable strength
Programmable pre-dial pause
Blocks fraudulent calls from hand held pocket dialers
Limited toll restriction in standard touch tone phone mode
Hearing aid compatible amplified handset with sealed push button volume control
Programmable default volume level
Programmable volume control disable
Zinc plated steel rough-in box with (2) 0.75″ conduit knockouts included
Flush mount using the included rough-in box or surface mount using a Viking

 

VE-5X10

 

Surface mount box (not included)
APPLICATIONS
Catalog sales
Kiosks
Courtesy and customer service phones
Automated tellers (ATMs)
Hot-Line reservation phones
Security and emergency phones
Replaces leased ringdown circuits
Gate / entrance communication in noisy locations (diesel trucks, factory noise, etc.)
SPECIFICATIONS
| | |
| --- | --- |
| Power | Telephone line powered (20V DC/18mA minimum) |
| Phone Dimensions | 5.0″ x 10.0″ x 4.54″ (127mm x 254mm x 113mm) |
| Overall Dimensions | 5.0″ x 10.0″ x 5.53″ (127mm x 254mm x 141mm) |
| Shipping Weight | 5 lbs (2.3 kg ) |
| Operating Temperature | -30°F to 140°F (-34°C to 60°C) |
| Humidity – Standard Model | 5% to 95% non-condensing |
| Handset Cable Length | 12" to 12.7" (31 cm to 33 cm) |
| Touch Tone Dial Speed | Normal = 120ms on/off, Fast = 50ms on/off |
| Pulse Dial Speed | Normal = 10 pps, Fast = 20 pps |
| Connections | (2) gel-filled butt connectors |
Vikingtelecomsolutions.com, Inc. is a leading provider of Viking Electronics phone systems and equipment. We specialize in business phones and business phone systems for small to large companies; with phone systems for any application. We sell many of the brands in the IT, Telecom, Datacom, Electrical, and Industrial spaces.