$355.95
SKU: K-1700-3
PRODUCT DETAILS
The K-1700-3 is a tough and attractive speaker phone designed to provide two-way handsfree communication, ideal for apartment and residential door entry applications. The door entry phone features microphone and speaker volume controls, selectable auto answer for monitoring, and intelligent call progress detection for automatic hang-up when the call is completed.
When the "Call" button is pressed, the K-1700-3 returns dial tone, and the keypad may then be used to dial any number. If no touch tone is entered within 8 seconds, CPC is detected, a busy signal is detected, or the programmable maximum call time has elapsed, the K-1700-3 will automatically disconnect. Alternatively, the K-1700-3 may be disconnected by pressing the "Call" button again.
The K-1700-3 is designed to be flush mounted using the included rough-in box. Surface mount options are also available using Viking's VE-6X7 Series Surface Mount Boxes.
For outdoor installations where the unit is exposed to precipitation or condensation, use model K-1700-3-EWP. For more information on Enhanced Weather Protection (EWP), see DOD 859.
Manufacturer Warranty
2 Year Limited Warranty
View full details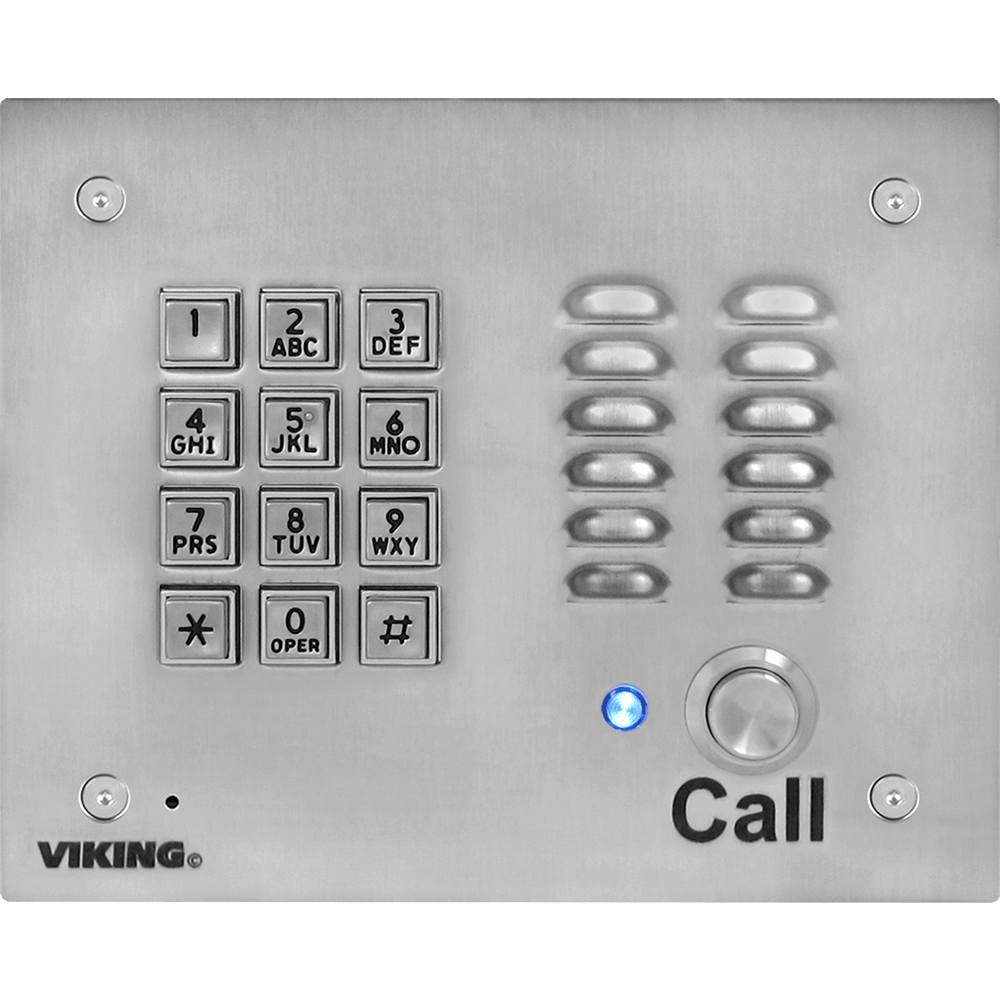 Vandal Resistant Handsfree Entry Phone with Keypad is designed especially for apartment and door entry applications.
K-1700-3 Features:
Vandal resistant
14 gauge stainless steel faceplate
Heavy duty metal keypad and "call" button
Stainless steel speaker/mic screen
Scratch resistant powder coating on K-1700-3-BN
Hex drive mounting screws
Yellow "in use" LED
Volume adjustments for microphone and speaker
Advanced call progress detection: disconnects on busy signal, return to dial tone, CPC reorder tone, maximum call time out and selectable silence time out
Selectable auto-answer feature
Selectable push button disconnect
Zinc plated steel rough-in box with (2) 3/4" conduit knockouts
Selectable maximum call time
Selectable VOX switching speed
Telephone line powered
Finish: Brushed Stainless Steel
Specifications:
Power: Telephone line powered 20V DC/20mA minimum
Dimensions: Overall: 140mm x 165mm x 66mm (5.5" x 6.5" x2.6") , Rough-in box: 114mm x 140mm x 64mm (4.5" x 5.5" x 2.5")
Environmental: -29°C to 54°C (-20°F to 130°F)
Humidity - K-1700-3: 5% to 95% non-condensing
Humidity - K-1700-3-EWP: Up to 100% condensing
Speaker Volume: Approximately 70 db maximum @1m
Connections: Standard - (1) two-position terminal block, EWP -Gel-filled tip and ring connectors
CPC Disconnect Time: 500ms minimum
REN #: 0.5 A
Available Models:
Vikingtelecomsolutions.com, Inc. is a leading provider of Viking Electronics phone systems and equipment. We specialize in business phones and business phone systems for small to large companies; with phone systems for any application. We sell many of the brands in the IT, Telecom, Datacom, Electrical, and Industrial spaces.