$286.75
SKU: K-1600-EHFA
The Viking K-1600-EHFA Emergency Phone is designed to provide handsfree communication for any standard analog phone line or phone system analog port. The Viking K-1600-EHFA meets ADA requirements for elevator emergency phones and can be programmed from any touch tone phone. It can dial up to 5 programmable emergency numbers as well as 2 central station numbers.
The Viking K-1600-EHFA can be programmed to automatically deliver a digital announcement to identify the location of the emergency call. A DTMF touch tone code may also be delivered. A "Call Connected" LED can be initiated manually or automatically. All programming parameters, including phone numbers and location numbers, are stored in non-volatile memory. The K-1600-EHFA is phone line powered, requiring no batteries or external power and is compatible with common Central Station Monitoring equipment.
View full details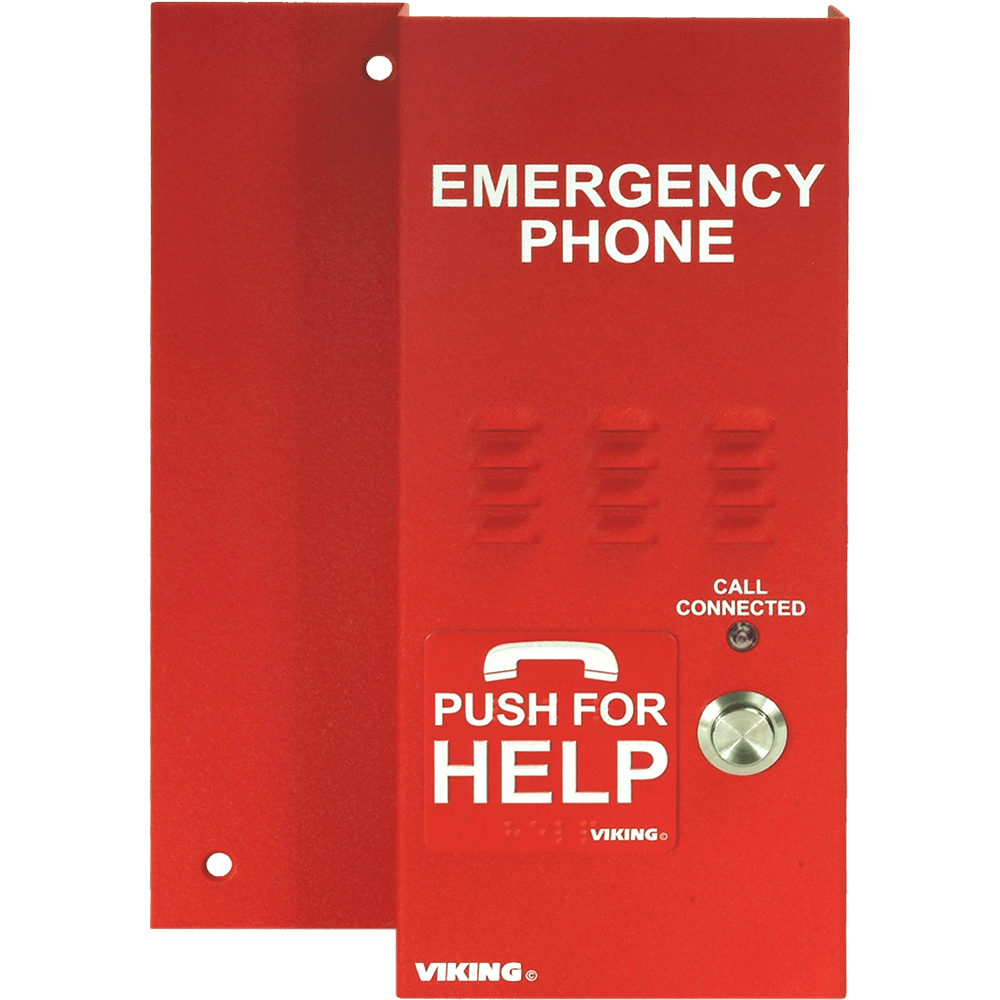 Viking K-1600-EHFA Features:
Automatic Noise Canceling (ANC) feature for clear audio in noisy environments
Meets the latest ASME A17.1 code when used with the optional LV-1K Line Verification Panel
Non-volatile digital voice announcer with 16 seconds of voice memory
Advanced call progress detection
Handsfree operation
Phone line powered
Non-volatile memory (no batteries required)
Marine grade 316 stainless steel prevents corrosion on stainless models
Dials up to 5 emergency numbers
E-1600-20A and E-1600-52A dial up to 3 non-emergency "INFO" numbers
Cycles through backup phone numbers on busy or no-answer
Optional Enhanced Weather Protection (EWP), EWP products are designed to meet
IP66 Ingress Protection Rating
Hangs up on CPC, silence, busy signal, dial tone, time-out or touch tone command
Programmable to auto-answer on incoming calls
Remotely programmable
Extended temperature range (-15°F to 130°F)
16 different chassis or board only available
Available in 42" tall tower phone model E-1600A-BLT-EWP
Central Station Monitoring capability (dials 2 numbers)
Optional PB-100 Polling System available
Optional BLK-4-EWP strobe light kit available
Optional LC-6 Six Port Concentrator available
Optional LV-1K Line Verification Panel available
Optional E-1600A-MK-GNP Pedestal Mounting Kit
Optional PB-1 Panic Button Kit
Also available with VoIP interface
Manufacturer Warranty: 2 Year Limited Warranty
Viking K-1600-EHFA Applications:
Elevators
Parking ramps/lots
Emergency pool phones
ATM machines
Area of refuge locations
Lobbies
Silent holdup alarm dialer using optional Panic Button Kit
Entryways
Campus emergency stations
Roadside emergency stations
Stadiums
Convention centers
Vikingtelecomsolutions.com, Inc. is a leading provider of Viking Electronics phone systems and equipment. We specialize in business phones and business phone systems for small to large companies; with phone systems for any application. We sell many of the brands in the IT, Telecom, Datacom, Electrical, and Industrial spaces.