$929.42
SKU: K-1205-IP
Vikings K-1205-IP is a durable and attractive hands free entry phone for apartment and residential door applications that require a vandal resistant VoIP speaker phone with integrated analog color video camera. Designed to provide quick and reliable handsfree communication for SIP VoIP phone systems or cloud based service providers. Vikings K-1205-IP can be programmed from any PC on the same LAN or remotely using a Static IP Address. Vikings K-1205-IP VoIP entry phone can dial up to 12 programmable numbers and another 12 rollover numbers. The brushed stainless steel faceplate has a built-in 12 resident directory with a waterproof, scratch resistant lens and 12 buttons for single push auto-dialing of a tenant's phone number or business extension.
View full details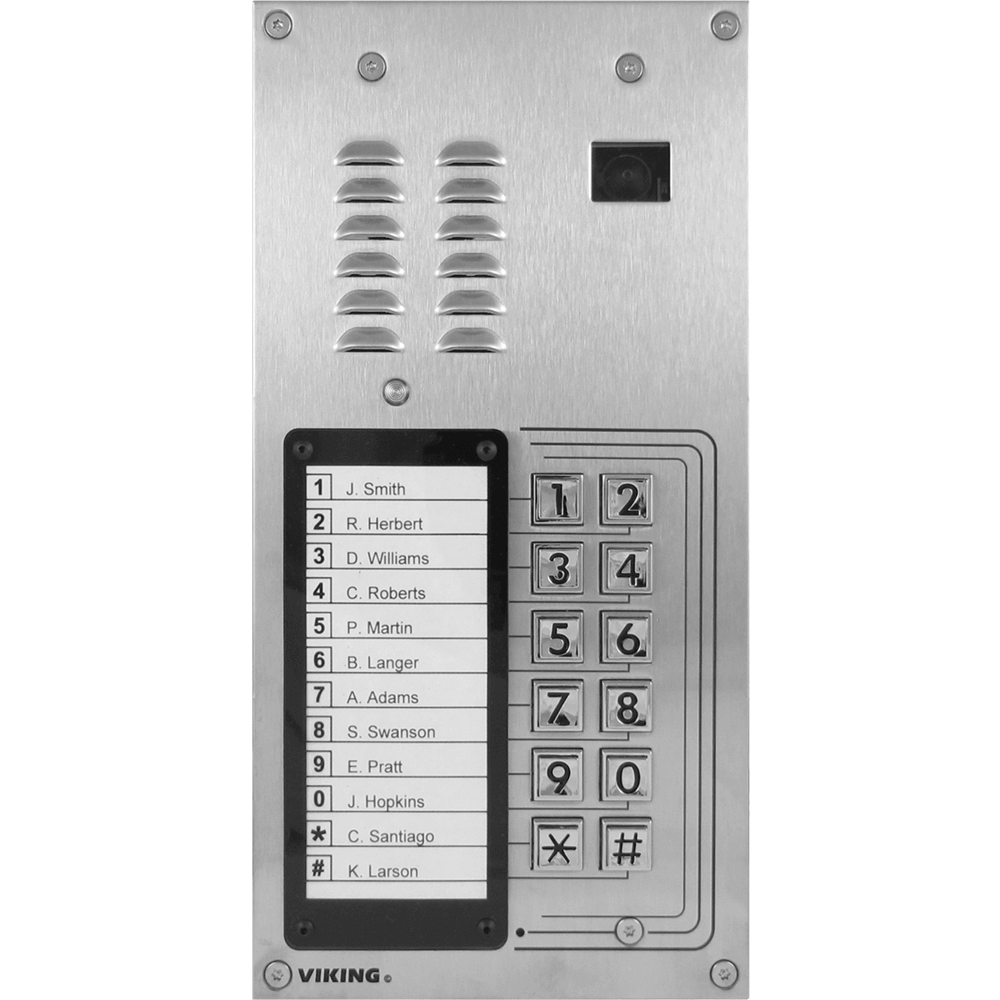 Viking K-1205-IP Features:
Built-in high resolution analog NTSC color video camera with wide viewing angle, tilt/swivel adjustments and wide operating temperature: -40°F to 140°F (-40°C to 60°C)
Vandal Resistant Features

14 gauge louvered 316 stainless steel faceplate
Permanent laser etched graphics
Speaker and mic screen
Heavy-duty metal keypad buttons
T-10 Security Torx drive mounting screws

Weather Resistant Features

Marine grade 316 stainless steel faceplate ­­­­and screws
Keypad internally sealed per IP67
Mylar speaker
Self-draining mic mount
Gaskets for faceplate, mic, and speaker

Two sets of SPDT 2 Amp relay contacts for controlling a door, gate, or camera­­­
Optional RC-4A for secure remote relay control, see DOD 582
Blue "Call/Status" LED indicator
SIP compliant
PoE powered (class 2, <6.5 Watts)
Automatic Noise Canceling (ANC) feature for clear audio even in noisy environments
Viking's proprietary VOX switching eliminates the need for "Push to Talk" mode
Network downloadable firmware
26 bit Wiegand input for optional proximity card readers
Programmable to speed dial up to 12 numbers
Cycles to rollover phone number on busy or no-answer
Program up to 1,000 keyless entry codes­­­ and/or proximity card numbers
Keyless entry codes and proximity card numbers can be programmed to only allow access at specific times and days of week
Event logging with time and date stamp
Hangs up on: busy signal, time-out, or touch tone command
Program remotely
Extended operating temperature range: -40°F to 140°F (-40°C to 60°C)
Adjustable volume for microphone and speaker
Selectable auto-answer feature for monitoring
Zinc plated steel rough-in box included
Optional LRR-4 Long Range RFID Receiver
Optional VE-5×10 Surface Mount Boxes available
Optional VE-LIGHT kit to illuminate the front panel at night
Diagnostics for testing mic, speaker, and relays

Manufacturer Warranty: 2 Year Limited Warranty

Viking K-1205-IP Applications:

Gate Entrance
Courtesy Assistance Phone
Customer Service Phone
Automated Teller (ATM) Phone
Door Entry Phone
Apartment Entry Phone
Kiosk Phone

Viking K-1205-IP Specifications:

Power PoE class 2 (<6.5 Watts)
Dimensions – Overall 5" x 10" x 2.5" (127mm x 254mm x 63.5mm)
Dimensions – Rough-In Box 4.5" x 9.12" x 2.5" (114mm x 232mm x 64mm)
Shipping Weight: 4.2 lbs (1.9 kg)
Operating Temperature: -40°F to 140°F (-40°C to 60°C)
Humidity 5% to 95% non-condensing
Audio Codecs G711u, G711a, G722
Network Compliance: IEEE 802.3 af PoE, SIP 2.0 RFC3261, 100BASE-TX with auto cross over
Connections (1) RJ45 10/100 Base-T, (16) gel-filled butt connectors
Camera Specifications Image Sensor 1/4" color CMOS Video Output
Image Sensor 1/4" color CMOS
Video Output 1 VP-P composite, NTSC, 75 Ohms
Resolution: 420 lines (640 x 480 @ 30fps / 307,200 pixels)
Sensitivity: 0.025 LUX (50 IRE) F 1.2 3200K
Lens 2.1mm, conical pinhole
Field of View 80° Horizontal, 60° Vertical, 100° Diagonal
Tilt/Swivel Adjustment Vertical +/- 20°, horizontal +/- 30°
Maximum Wire Run Length 1000 ft with *RG59/RG6 for video and CAT5 for power (1 pair) and entry phone audio (1 pair). 150 ft with CAT5E for video, power and entry phone audio (longer video runs are possible by using video balun transceivers)
Vikingtelecomsolutions.com, Inc. is a leading provider of Viking Electronics phone systems and equipment. We specialize in business phones and business phone systems for small to large companies; with phone systems for any application. We sell many of the brands in the IT, Telecom, Datacom, Electrical, and Industrial spaces.