$137.01
SKU: ES-1
The Viking ES-1 is a door controller designed to operate a door strike or magnetic lock. The Viking ES-1, one or two Wiegand devices and a door strike or magnetic lock of your choice is required for each entry point.
The Viking ES-1 can be used with any Viking or other proximity reader, RF transmitter, or digital keypad with 26 bit Wiegand format outputs. If two Wiegand devices are used, one can be placed on each side of a doorway to control access in both directions (entry and exit). Up to 250 valid Wiegand codes can be programmed into the ES-1.
Other programmable parameters, relay activation, mode (normal, off, or open) and facility codes are also stored in non-volatile memory. Use a touch tone phone for all programming. Up to three ES-1 units can be programmed simultaneously if they will be sharing all the same programming codes and parameters. Entry logging is possible with the LOG BUS data output of the ES-1.
View full details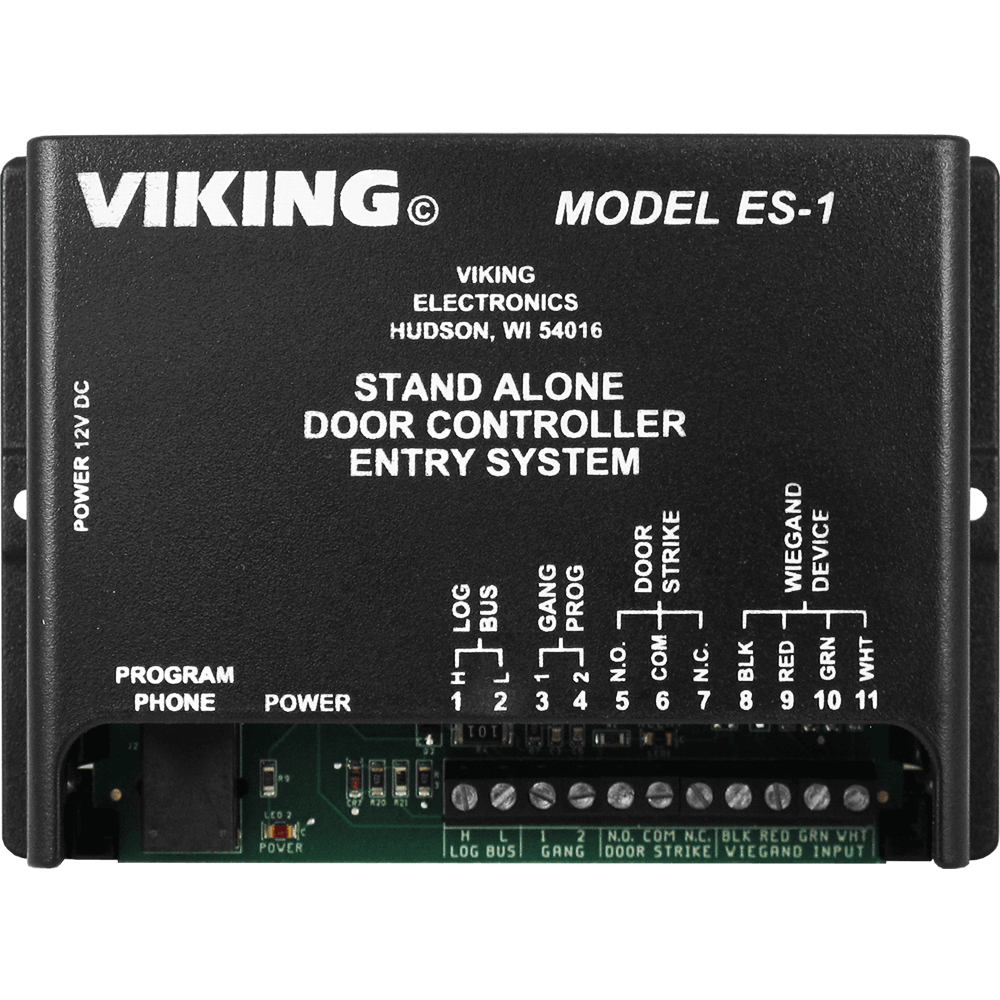 Viking ES-1 Features:
Up to 250 tenants
Program and control with a touch tone phone
Use with any 26 bit Wiegand device
Supports 1 entry point
Compatible with Viking models PRX-1, PRX-2, PRX-3, PRX-4, PRX-5, LRR-4 and certain legacy 125KHz HID® proximity card readers*
Non-volatile memory (no batteries required)
LOG BUS data output for logging entry events
Card plus keypad mode for highest security
One time codes for visitors
Bi-directional (entry and exit) control
Manufacturer Warranty: 2 Year Limited Warranty


Viking ES-1 Applications:

Business entrances
High rise apartment buildings
Condominiums
Senior citizen accommodations
Assisted care centers
Retirement homes
Gated communities

Viking ES-1 Specifications:

Power: ­­­120V AC/12V DC 500mA, UL listed adapter provided or use any 12-24V AC or DC source @ 200mA (designed to share power with the doorstrike power supply)
Dimensions: 5.25" x 3.5" x 1.75" (133mm x 89mm x 44mm)
Environmental: 32°F to 90°F (0°C to 32°C) with 5% to 95% non-condensing humidity
Relay Contact Ratings: 5A @ 30V DC/250V AC maximum
Maximum Wiegand Length: 152m (500 ft) with 24 AWG
Maximum LOG BUS Length: 1610m (5280 ft / 1 mile) with 24 AWG
Connections: (11) screw terminals, (1) RJ-11 telco jack

* HID and the HID logo are registered trademarks of HID Global Corporation, an ASSA ABLOY company. All other trademarks are the property of their respective owners.
Vikingtelecomsolutions.com, Inc. is a leading provider of Viking Electronics phone systems and equipment. We specialize in business phones and business phone systems for small to large companies; with phone systems for any application. We sell many of the brands in the IT, Telecom, Datacom, Electrical, and Industrial spaces.