$346.10
SKU: E-32-EWP
Flush mount in a standard double gang electrical box!
View full details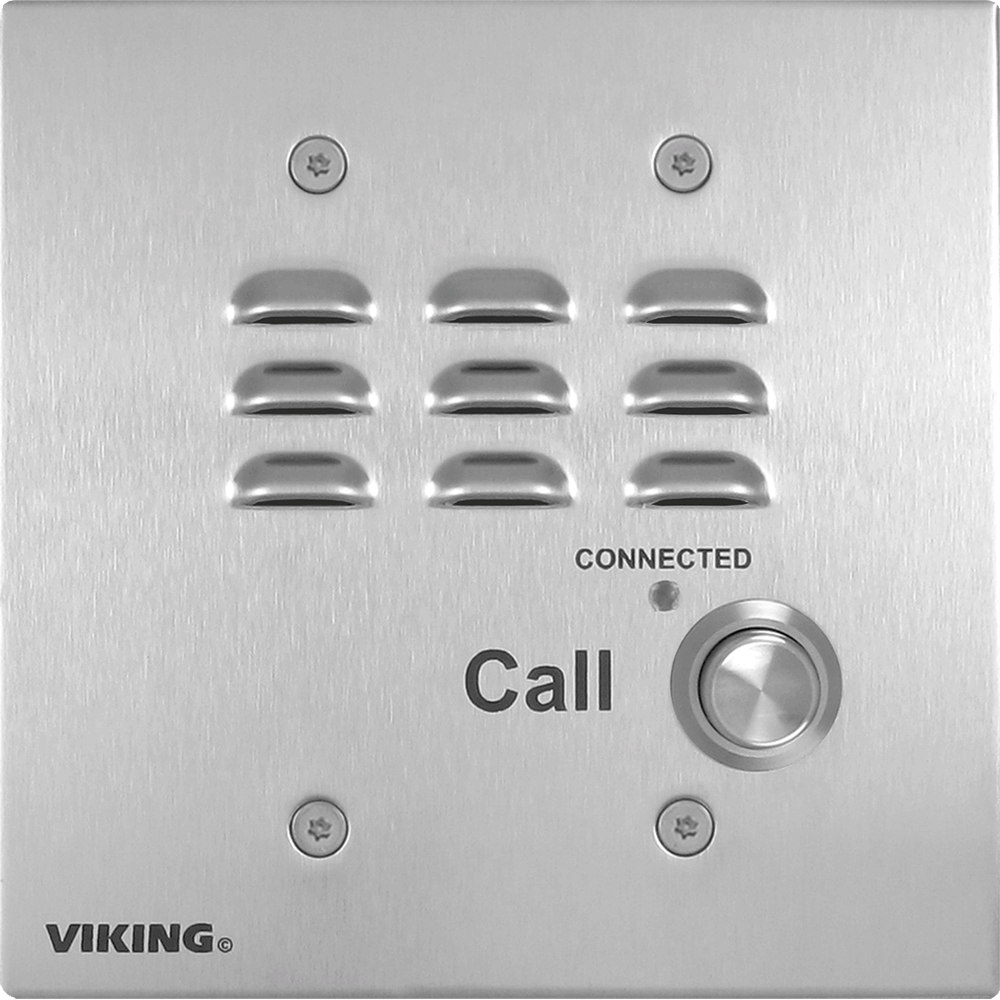 The E-32-EWP handsfree speaker phone is designed to provide quick and reliable handsfree communication and can be connected directly to a CO line or analog PABX / KSU station.
E-32-EWP Fetaures:
Automatic Noise Canceling (ANC) feature for proper operation in noisy environments
Vandal Resistant Features:

14 gauge louvered 316 brushed stainless steel faceplate with permanent laser etched graphics
Speaker / mic screen
Heavy duty metal "Call" button
T-10 Torx security mounting screws and drive bit

Weather Resistant Features:

Marine grade 316 stainless steel faceplate, screws and push button switch
Switch internally sealed per IP67
Mylar speaker
Self draining mic mount
Faceplate, mic and speaker gaskets

Telephone line powered
Non-volatile memory, no batteries required
Blue off-hook LED indicator
Dials up to 5 emergency numbers
Cycles through backup phone numbers on busy or ring-no-answer
Hangs up on CPC, silence, busy signal, dial tone, time-out or touch tone command
Selectable auto-answer feature for monitoring
Extended temperature range (-15°F to 130°F)
Flush mounts in a standard double gang box

(not included)
Viking E-32-EWP APPLICATIONS:

ATM machines
Convention centers
Non-ADA Hot-Line Phone for:

Elevators
Parking lots
Stadiums
Parking ramps
Residences
Businesses

Gate and Door Entry Phone for:

Building lobbies
Pedestrian gates

Silent holdup alarm dialer when used with a Viking PB-1 Panic Button Kit
Viking E-32-EWP SPECIFICATIONS:

Power
Telephone line powered (24VDC / 20mA minimum)
Dimensions
5″ x 5″ x 2.25″ (127mm x 127mm x 57mm)
Shipping Weight
2.12 lbs (0.96 kg)
Operating Temperature
-15°F to 130°F (-26°C to 54°C)
Humidity
5% to 95% non-condensing
Material
14 gauge 316 stainless steel with #4 brushed finish
Minimum Ring Voltage
25VRMS
REN 0.5A
Connections
(2) gel-filled butt connectors
Viking E-32-EWP CERTIFICATIONS:
Vikingtelecomsolutions.com, Inc. is a leading provider of Viking Electronics phone systems and equipment. We specialize in business phones and business phone systems for small to large companies; with phone systems for any application. We sell many of the brands in the IT, Telecom, Datacom, Electrical, and Industrial spaces.