$635.62
SKU: E-1600A-TP-EWP
Manufacturer Warranty
2 Year Limited Warranty
View full details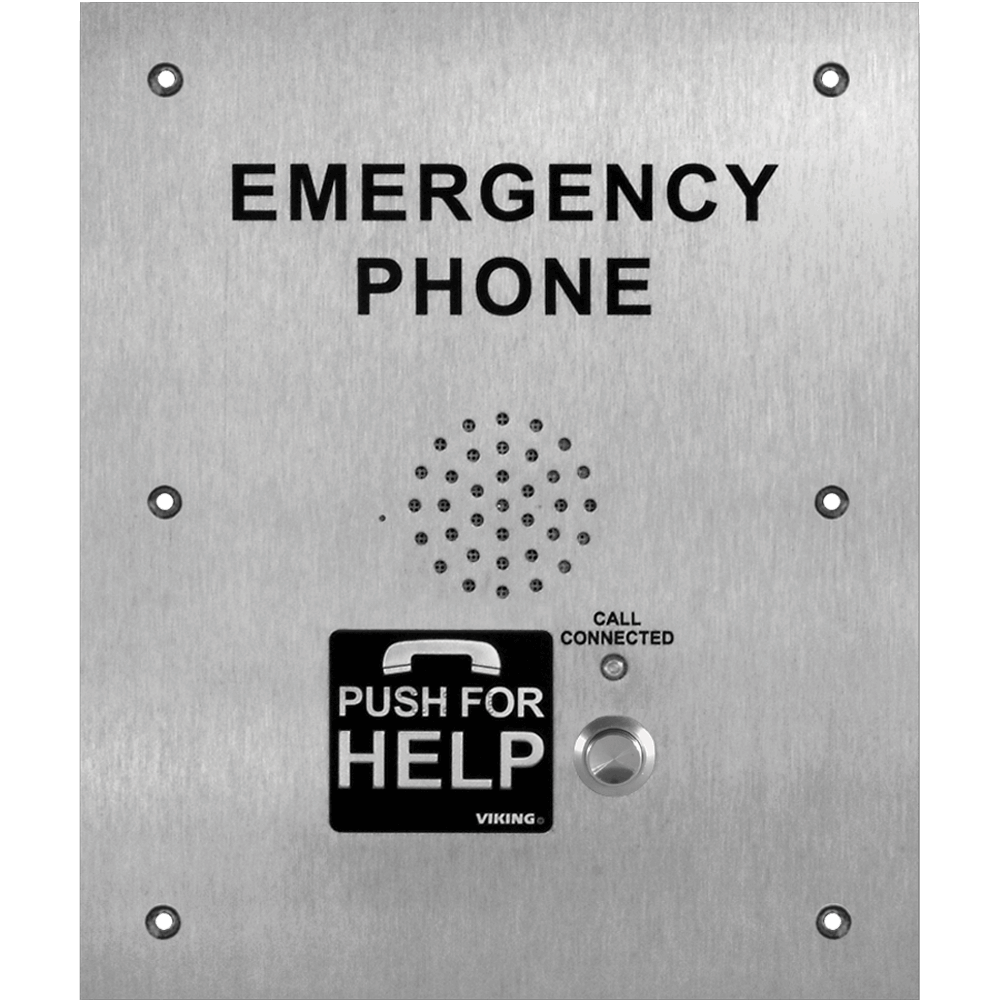 Viking E-1600A-TP-EWP Direct Physical Replacement for Talk-A-Phone Model ETP-400(V) Panel Phone. For use with Talk-A-Phone tower, pedestal, surface, wall and flush mount enclosures. Code Blue towers require redrilling and tapping.
Viking E-1600A-TP-EWP Features:
Meets ADA requirements for Emergency Phones:

Automatically lights the "Call Connected" LED
Transmits a unique location ID code or voice announcement
Grade 2 Braille label for the visually impaired

Non-volatile digital voice announcer with 16 seconds of voice memory
Advanced call progress detection
Handsfree operation
Phone line powered emergency phone (BLK-4-EWP requires power)
Provides contact or switched 12VDC for controlling a strobe light
Non-volatile memory, no batteries required
Programmable to dial up to 5 emergency phone numbers
Cycles through backup phone numbers on busy or ring-no-answer
Hangs up on CPC, silence, busy signal, dial tone, time-out or touch tone command
Programmable to auto-answer on incoming calls
Remotely programmable
Central Station Monitoring capability (dials 2 numbers)
Separate central station voice speed dial number
High visibility, vandal and weather resistant
Extended temperature range: -15°F to 130°F (-26°C to 54°C)
Enhanced Weather Protection (EWP)
Manufacturer Warranty: 2 Year Limited Warranty

Viking E-1600A-TP-EWP Applications:

Replacing damaged or malfunctioning Talk-A-Phone panel phones
Campus Security Sites
Area of Refuge sites
Parking Ramps / Lots
Automated Tellers (ATM)
Entryways
Roadside Emergency Sites
Stairwells in Public Buildings

Viking E-1600A-TP-EWP Specifications:

Phone Power: Telephone line powered (24VDC / 20mA minimum)
Relay Control Module Power: 120VAC / 12VDC 500mA, UL listed adapter provided
Dimensions: 9.5" x 11.75" x 2" (241mm x 299mm x 51mm)
Shipping Weight: 6.4 lbs (2.9 kg)
Operating Temperature: -15°F to 130°F (-26°C to 54°C)
Humidity: Up to 100%
Material: 12 gauge 316 stainless steel with #4 brushed finish
SPDT Relay Contact Rating: 1A @ 30VDC / 0.5A @ 125VAC, 250VAC maximum
Mounting: Flush mount to Talk-A-Phone towers, wall mounts, boxes and pedestals
Connections: (14) gel-filled butt connectors

Viking E-1600A-TP-EWP Certifications:
Vikingtelecomsolutions.com, Inc. is a leading provider of Viking Electronics phone systems and equipment. We specialize in business phones and business phone systems for small to large companies; with phone systems for any application. We sell many of the brands in the IT, Telecom, Datacom, Electrical, and Industrial spaces.