$429.40
SKU: E-1600A-EWP
The Viking E-1600A-EWP is an ADA Compliant Emergency Phone designed to provide reliably quick handsfree communication for standard analog telephone lines or an analog station/extension port on a phone system. The Viking E-1600A meets elevator / emergency telephones ADA requirements and can be programmed from any touch tone phone. The elevator phone can be pre-programmed to dial up to 5 emergency numbers, as well as 2 central station numbers.
View full details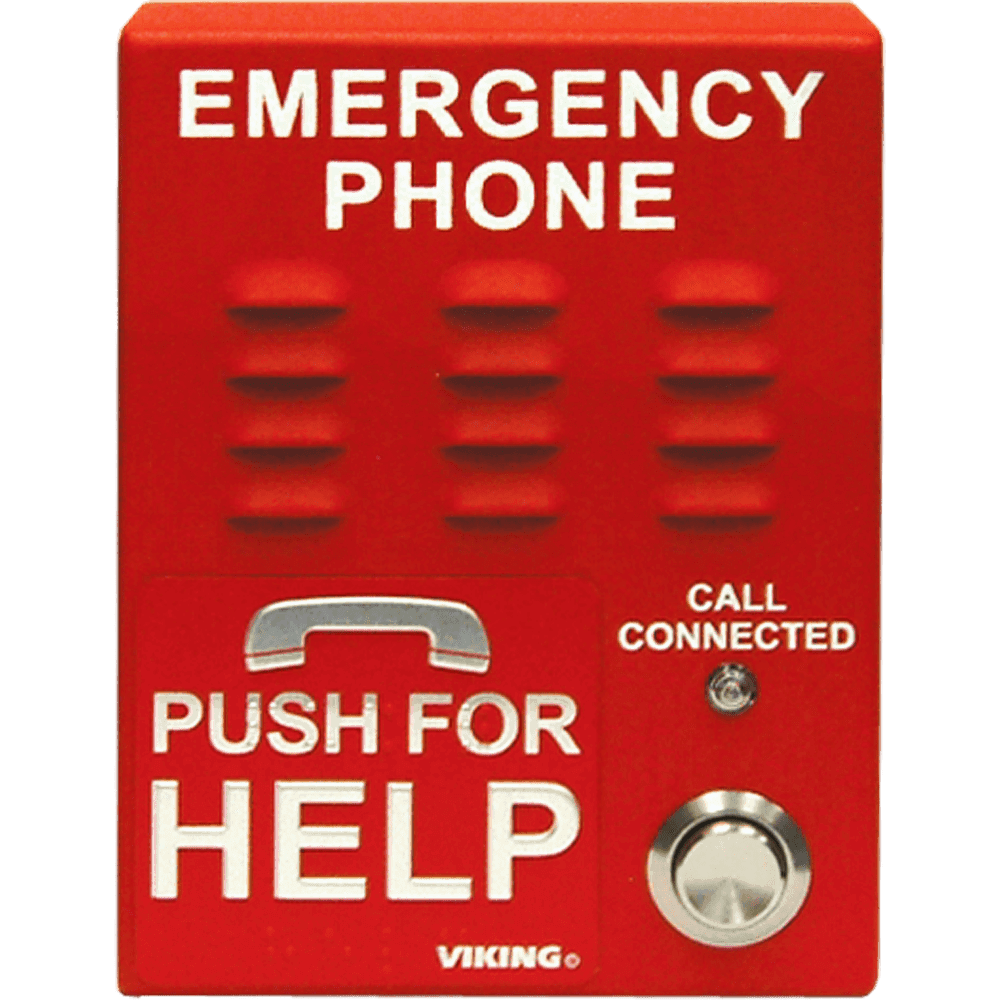 Viking E-1600A-EWP Emergency Elevator Phone Features:
Can automatically light "call connected" LED for hearing impaired
Transmits a unique location I.D. code or voice announcement
Grade 2 Braille label for visually impaired
Non-volatile digital voice announcer with 16 seconds of voice memory
Non-volatile E2 memory
Advanced call progress detection
Handsfree operation
Phone line powered
Touch tone or pulse dialing
Dials up to 5 emergency numbers
Cycles through backup emergency and non-emergency numbers on busy or no-answer
Hangs up on CPC, silence, busy signal, dial tone, time-out or touch tone command
Programmable to auto-answer on incoming calls
Remotely programmable
Extended temperature range (-15°F to 130°F)
Central station monitoring capability (dials 2 numbers)
Separate central station voice speed dial number
Enhanced weather protection (EWP) ideal for outdoor or harsh environments
For Standard version see E-1600A
EWP includes rubber gaskets and boots, silicon sealed connections, and gel-filled butt connectors
Manufacturer Warranty 2 Year Limited Warranty
Viking E-1600A-EWP Applications:
Elevators
Parking ramps
Pools
ATM machines
Area of refuge locations
Lobbies
Entryways
Campus emergency stations
Roadside emergency stations
Stadiums
Convention centers

Viking E-1600A-EWP Specifications

Power: Telephone line powered (24VDC / 20mA minimum)
Dimensions: 5.25″ x 4.0″ x 2.0″ (133mm x 102mm x 51mm)
Operating Temperature: -15°F to 130°F (-26°C to 54°C)
Humidity: 5% to 95% non-condensing
Shipping Weight: 2.5 lbs (1.13 kg)
Material: 16 gauge steel with textured red powder paint
Mounting: Surface mount to walls, posts, single gang boxes, or 4″ x 4″ electrical junction boxes; recess mount in elevator phone boxes
Connections: (2) Gel-filled butt connectors

Viking E-1600A-EWP Certifications

FCC Part 68
FCC Part 15
ADA
Vikingtelecomsolutions.com, Inc. is a leading provider of Viking Electronics phone systems and equipment. We specialize in business phones and business phone systems for small to large companies; with phone systems for any application. We sell many of the brands in the IT, Telecom, Datacom, Electrical, and Industrial spaces.