$299.95
SKU: E-1600A
The Viking E-1600A is an ADA Compliant Emergency Phone designed to provide reliably quick handsfree communication for standard analog telephone lines or an analog station/extension port on a phone system. The Viking E-1600A meets elevator / emergency telephones ADA requirements and can be programmed from any touch tone phone. The elevator phone can be pre-programmed to dial up to 5 emergency numbers, as well as 2 central station numbers.
The Viking E-1600A can be programmed to deliver a digital announcement to identify the emergency call location. A DTMF touch tone code can also be delivered. The button has a built-in "Call Connected" LED that can be initiated manually or automatically. All programming, phone numbers and location numbers are stored in non-volatile memory.
View full details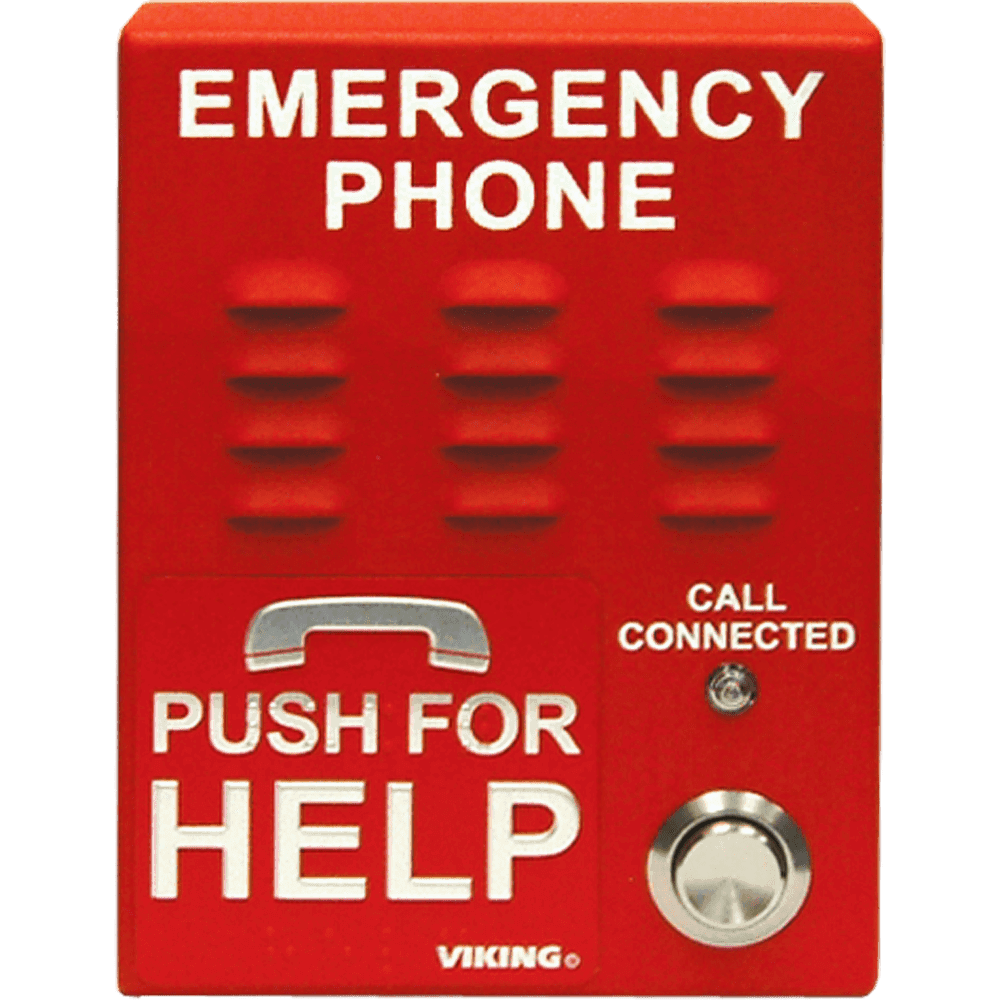 The Viking Electronics E-1600A ADA Compliant Red Emergency Elevator Phone with Dialer and Voice Announcer is a top-of-the-line emergency communication system designed to meet the requirements of the Americans with Disabilities Act (ADA). This system provides clear and reliable communication between passengers in an elevator and the outside world in case of an emergency.
One of the key features of the Viking E-1600A is its durability. Made with heavy-duty materials, this emergency phone is able to withstand harsh weather conditions and extreme temperatures. It is also designed to be vandal-resistant, ensuring that it can function properly in any environment.
In addition to its durability, the E-1600A also offers a variety of features that make it convenient and easy to use. The phone comes with a dialer, allowing passengers to quickly and easily call for help in case of an emergency. It also has a voice announcer that clearly and loudly announces the location of the elevator, making it easy for responders to locate the passengers.
Another useful feature of the E-1600A is its compatibility with other Viking communication systems. This allows businesses and residential buildings to easily integrate the emergency phone with their intercom systems and other communication equipment. This ensures seamless communication throughout the building.
Overall, the Viking Electronics E-1600A ADA Compliant Red Emergency Elevator Phone with Dialer and Voice Announcer is a reliable and convenient option for businesses and residential buildings looking to improve their emergency communication systems. With its durability, variety of features, and compatibility with other Viking equipment, it is an excellent choice for any building.
Viking E-1600A Emergency Elevator Phone Features:
Can automatically light "call connected" LED for hearing impaired
Transmits a unique location I.D. code or voice announcement
Grade 2 Braille label for visually impaired
Non-volatile digital voice announcer with 16 seconds of voice memory
Non-volatile E2 memory
Advanced call progress detection
Handsfree operation
Phone line powered
Touch tone or pulse dialing
Dials up to 5 emergency numbers
Cycles through backup emergency and non-emergency numbers on busy or no-answer
Hangs up on CPC, silence, busy signal, dial tone, time-out or touch tone command
Programmable to auto-answer on incoming calls
Remotely programmable
Extended temperature range (-15°F to 130°F)
Central station monitoring capability (dials 2 numbers)
Separate central station voice speed dial number
Dimensions: 133mm x 102mm x 51mm (5.25" x 4.0" x 2.0")
Enhanced weather protection (EWP) option ideal for outdoor or harsh environments
For Enhanced Weather Protection Version see E-1600A-EWP
Manufacturer Warranty 2 Year Limited Warranty
Viking E-1600A Applications:
Elevators
Parking ramps
Pools
ATM machines
Area of refuge locations
Lobbies
Entryways
Campus emergency stations
Roadside emergency stations
Stadiums
Convention centers
Silent hold-up alarm dialer when used with a Viking PB-1 Panic Button Kit
Viking E-1600A Specifications:
Power: Telephone line powered (24VDC / 20mA minimum)
Dimensions: 5.25″ x 4.0″ x 2.0″ (133mm x 102mm x 51mm)
Operating Temperature: -15°F to 130°F (-26°C to 54°C)
Humidity: 5% to 95% non-condensing
S
hipping Weight: 2.5 lbs (1.13 kg)
Material: 16 gauge steel with textured red powder paint
Mounting: Surface mount to walls, posts, single gang boxes, or 4″ x 4″ electrical junction boxes; recess mount in elevator phone boxes
Connections: (2) Gel-filled butt connectors
Viking E-1600A Certifications:
FCC Part 68
FCC Part 15
ADA
Vikingtelecomsolutions.com, Inc. is a leading provider of Viking Electronics phone systems and equipment. We specialize in business phones and business phone systems for small to large companies; with phone systems for any application. We sell many of the brands in the IT, Telecom, Datacom, Electrical, and Industrial spaces.