$409.65
SKU: E-1600-SSA
Usually ships in 3 weeks!
The Viking E-1600-SSA is an ADA Compliant Emergency Phone designed to provide reliably quick handsfree communication for standard analog telephone lines or an analog station/extension port on a phone system. The Viking E-1600-SSA meets elevator / emergency telephones ADA requirements and can be programmed from any touch tone phone. The emergency phone can be pre-programmed to dial up to 5 emergency numbers, as well as 2 central station numbers.
View full details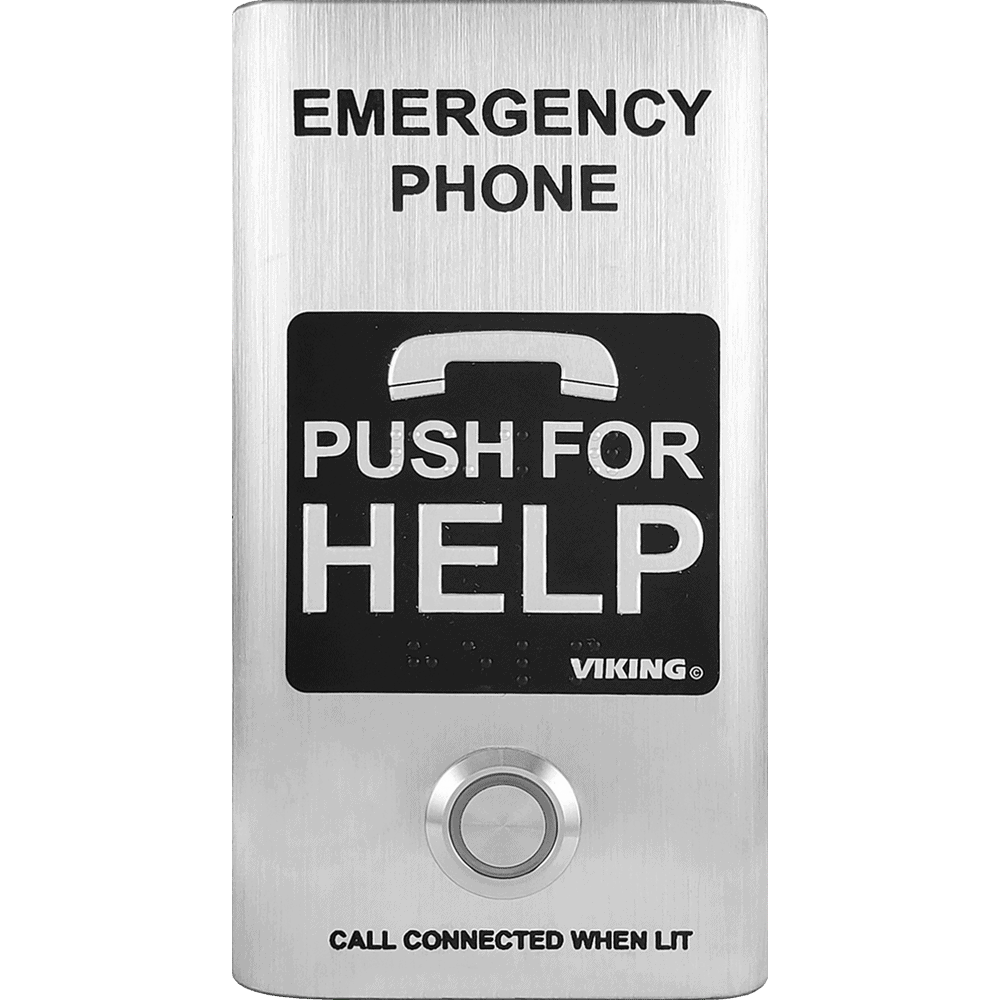 Viking E-1600-SSA Features:
Phone line powered
Handsfree operation
Remotely programmable
Dials up to 5 emergency numbers
Advanced call progress detection
Non-volatile memory (no batteries required)
Programmable to auto-answer on incoming calls
Central Station Monitoring capability (dials 2 numbers)
Extended temperature range: -15°F to 130°F (-26°C to 54°C)
Cycles through backup phone numbers on busy or ring-no-answer
Non-volatile digital voice announcer with 16 seconds of voice memory
Automatic Noise Canceling (ANC) feature for clear audio in noisy environments
Hangs up on CPC, silence, busy signal, dial tone, time-out or touch tone command
Meets the latest ASME A17.1 code when used with a Viking LV-1K Line Verification Panel
Meets ADA requirements for Emergency Phones: Automatically lights the "Call Connected" LED, Transmits a unique location ID code or voice announcement, Grade 2 Braille label for the visually impaired
Viking E-1600-SSA Applications:
Lobbies
Stadiums
Elevators
Entryways
ATM machines
Medical centers
Convention centers
Public access areas
Parking ramps / lots
Emergency pool phones
Area of refuge locations
Campus emergency stations
Silent hold-up alarm dialer when used with a Viking PB-1 Panic Button Kit
Viking Electronics E-1600-SSA Police Phone Package Contents:
Viking E-1600-SSA Police Phone
Vikingtelecomsolutions.com, Inc. is a leading provider of Viking Electronics phone systems and equipment. We specialize in business phones and business phone systems for small to large companies; with phone systems for any application. We sell many of the brands in the IT, Telecom, Datacom, Electrical, and Industrial spaces.