$1,398.37
SKU: E-1600A-BLT2EWP
The E-1600A-BLT2EWP emergency tower phone provides added safety for your patrons, employees, and students with the addition of high visibility, ADA compliant communication. The Help button can dial up to 5 programmable emergency numbers, as well as 2 central station numbers. The Info button can dial up to 3 non-emergency numbers.
View full details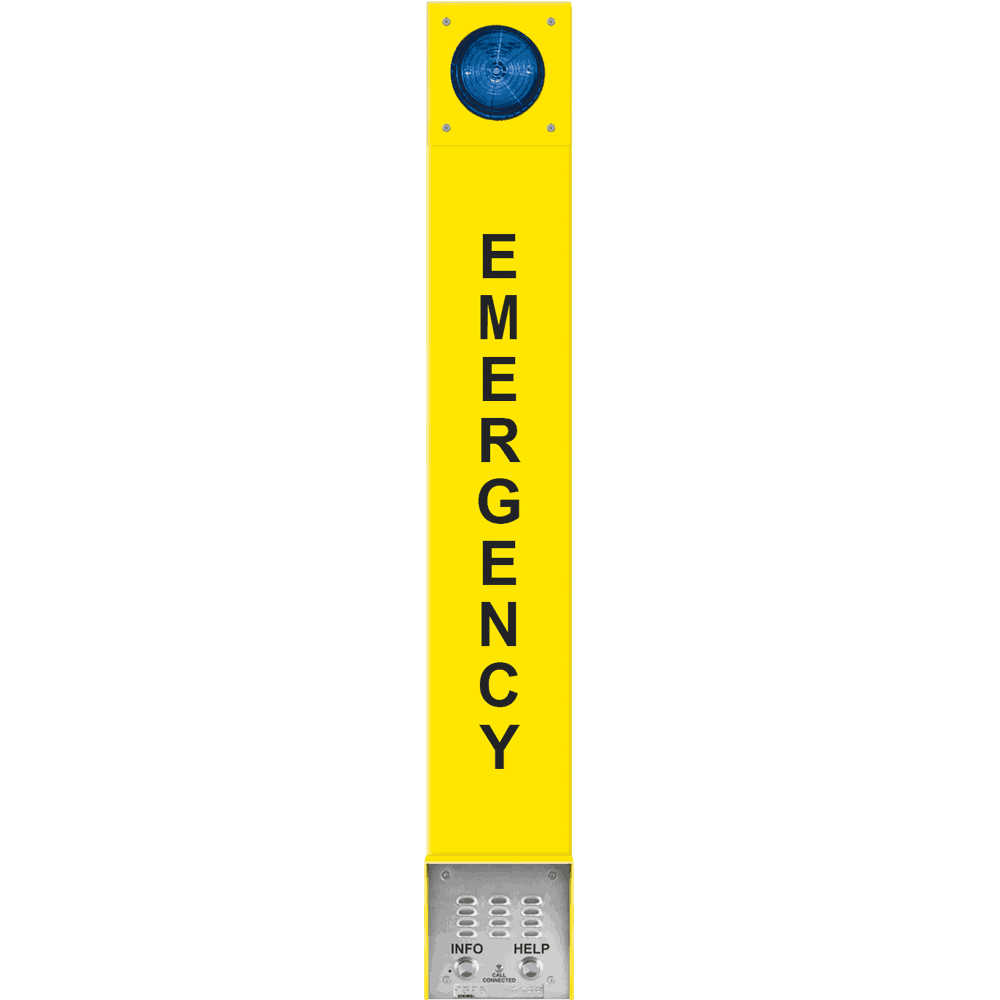 Viking E-1600A-BLT2EWP Features:
New Automatic Noise Canceling (ANC) feature for proper operation in noisy environments
Enhanced Weather Protection (EWP), EWP products are designed to meet IP66 Ingress Protection Rating (DOD 859)
Meets ADA requirements for Emergency Phones:

Automatically lights the "Call Connected" LED
Transmits a unique location I.D. code or voice announcement
Grade 2 Braille label for the visually impaired

16 second non-volatile digital voice announcer
High power LED strobe and beacon visual indicator:

High output / long life LED technology
4 programmable flash patterns: single, double, quad and flicker
6 programmable beacon and strobe brightness settings

Advanced call progress detection
Handsfree operation
Phone line powered emergency phone (strobe requires power)
Non-volatile memory (no batteries required)
Marine grade 316 stainless steel and powder coated aluminum to prevent corrosion
Dials up to 5 emergency numbers
Cycles through backup phone numbers on busy or no-answer
Can also dial up to 3 "Info" numbers
Hangs up on CPC, silence, busy, dial tone, time-out or touch tone
Programmable to auto-answer on incoming calls
Remotely programmable
Central Station Monitoring capability (dials 2 numbers)
Separate central station voice speed dial number
Optional PB-100 Polling System available
Manufacturer Warranty: 1 Year Warranty
Viking E-1600A-BLT2EWP Applications:
Campus Auditoriums
Parking Ramps / Lots
Automated Tellers (ATM)
Entryways
Stairwells in Public Buildings
Viking E-1600A-BLT2EWP Specifications:
Phone Power: Telephone line powered. Minimum 24V DC talk battery voltage, with a minimum loop current of 20mA. Loop current may be boosted on low current lines with a Viking Model TBB-1B talk battery booster (DOD 632).
Beacon/Strobe Power: 120V AC / 12V DC power adapter (included)
Maximum Strobe Power Run: 200 feet using 24 AWG wire
Dimensions: 42" x 6" x 4.5" (107.0 cm x 15.24 cm x 10.93 cm)
Shipping Weight: 20 lbs
Mounting: Surface mount to rigid wall or post
Operating Temperature: -15°F to 130°F (-26°C to 54°C)
Humidity: 5% to 95% non-condensing humidity
Strobe Flash Rate: 60 flashes per minute (default)
Maximum Strobe Light Output @ 15 VDC:

Clear lens: 323 lumens
Amber lens: 242 lumens
Blue lens: 116 lumens
Red lens: 66 lumens

Maximum Power Supply Run Length on CAT-5:

1 pair = 125 ft
2 pair = 225 ft
3 pair = 325 ft
4 pair = 475 ft

Enclosure Material: 0.125" aluminum, 3.0″ x 6.0″ (76.2mm x 152.4mm) tube, powder painted high-visible yellow
Phone Panel Material: 0.074" (14 gauge) 316 marine grade stainless steel with stainless steel button
Strobe Material: Vandal resistant polycarbonate plastic
Connections: Color-coded wires with gel-filled butt connectors

Viking E-1600A-BLT2EWP Certifications
Vikingtelecomsolutions.com, Inc. is a leading provider of Viking Electronics phone systems and equipment. We specialize in business phones and business phone systems for small to large companies; with phone systems for any application. We sell many of the brands in the IT, Telecom, Datacom, Electrical, and Industrial spaces.