$413.86
SKU: E-1600-65-IP
The Viking E-1600-65-IP Blue VoIP Emergency Phone is designed to provide reliably quick handsfree communication for SIP VoIP phone systems with PoE in case of emergency. The Viking E-1600-65-IP meets ADA requirements for elevator / emergency telephones and is programmable from any touch tone phone, PC or remotely using a static IP address. The Viking E-1600-65-IP emergency phone can dial up to 5 programmable emergency numbers.
View full details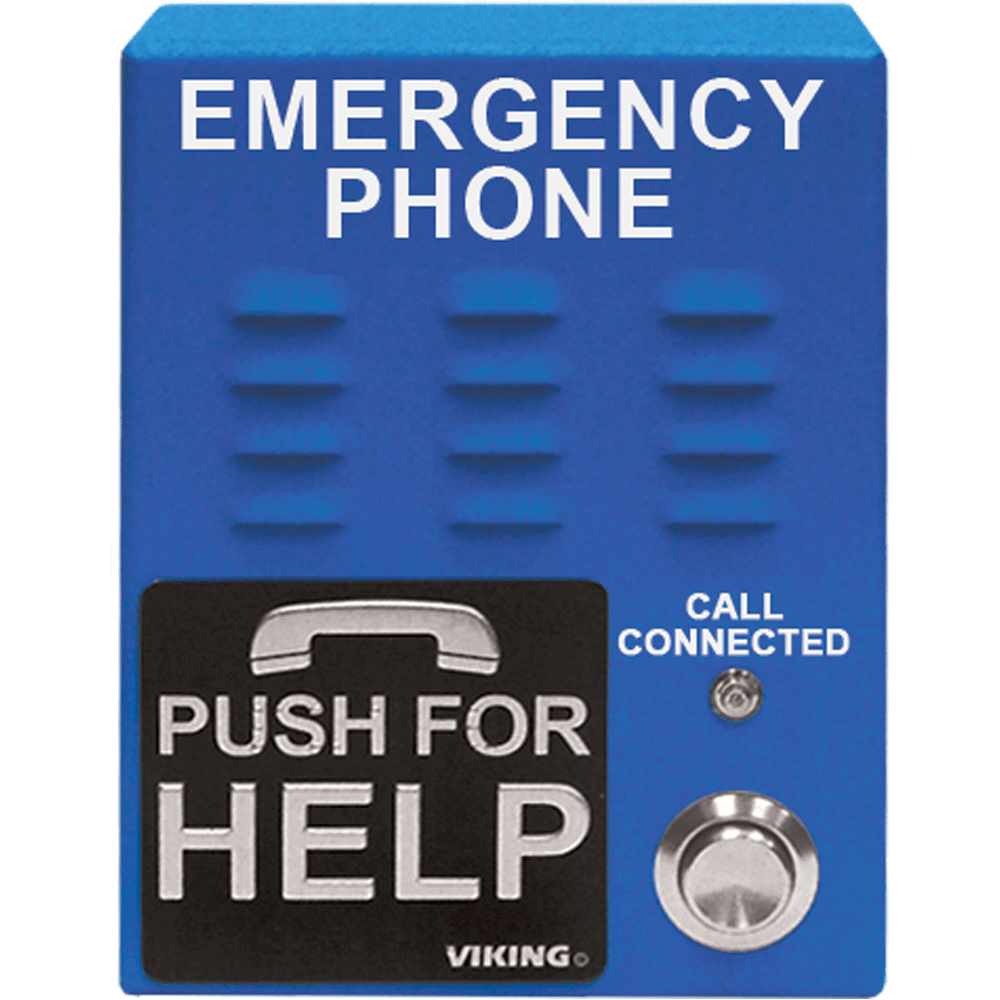 Viking E-1600-65-IP Features:
Self diagnostic reports via email (testing com, mic, speaker & switch)
Automatic polling and programming software included
2 Amp relay contacts for door/gate or SL-2 strobe light control
SIP compatible (see pg 2 for list of compatible IP-PBX phone systems)
PoE powered (class 1,
Automatic Noise Canceling (ANC) feature for proper operation in noisy environments
Network downloadable firmware
Meets ADA requirements for Emergency Phones: Automatically lights the "Call Connected" LED
Transmits a unique location I.D. code or voice announcement-Grade 2 Braille label for the visually impaired
Non-volatile digital voice announcer with 28 seconds of voice memory
Handsfree operation
Marine grade 316 stainless steel prevents corrosion on the stainless steel models
Dials up to 5 emergency numbers
E-1600-20-IP and E-1600-52-IP dial up to 5 non-emergency "INFO" numbers
Cycles through backup phone numbers on busy or no-answer
Optional Enhanced Weather Protection (EWP), EWP products are designed to meet IP66 Ingress Protection Rating
Hangs up on busy signal, time-out or touch tone command
Remotely programmable
Extended temperature range (-15°F to 130°F)
11 different chassis or board only available
Viking E-1600-65-IPSpecifications:
Power: PoE class 1

(<4 Watts)

Dimensions: See Installation and Specifications
Operating Temperature: -26° C to 54° C (-15°F to 130°F)
Humidity - Standard Products: 5% to 95% non-condensing
Humidity - EWP Products: Up to 100%
Audio Codecs: G711u, G711a, G722
Connections: (1) RJ45 10/100 Base-T, (3) gel-filled butt connectors
Viking E-1600-65-IP Applications:
Elevators
Parking ramps / lots
Emergency pool phones
ATM machines
Medical centers
Silent hold-up alarm dialer when used with a Viking PB-1 Panic Button Kit
Area of refuge locations
Lobbies
Entryways
Campus emergency stations
Stadiums
Convention centers
Public access areas
VoIP SIP System Compatibility List:
3COM VCX
3CX
Aastra
Asterisk
Atcom
Avaya IP Office
BlueBox
Brekeke
Cisco Unified Communications Manager (CUCM)
Freeswitch
Grandstream
iptel.org
Kamailio
MetaSwitch
OfficeSIP
OpenSIPS
Panasonic
Samsung Communications Manager (SCM)
ShoreTel
Siemens Communications Server (SCS)
SIP Express Router (SER)
sip.antisip.com
Snom PBX
Sonus
Switchvox
Teksip
Toshiba
VoIP.ms
Vonage
Vikingtelecomsolutions.com, Inc. is a leading provider of Viking Electronics phone systems and equipment. We specialize in business phones and business phone systems for small to large companies; with phone systems for any application. We sell many of the brands in the IT, Telecom, Datacom, Electrical, and Industrial spaces.