$299.45
SKU: E-1600-45A
Manufacturer Warranty
2 Year Limited Warranty
View full details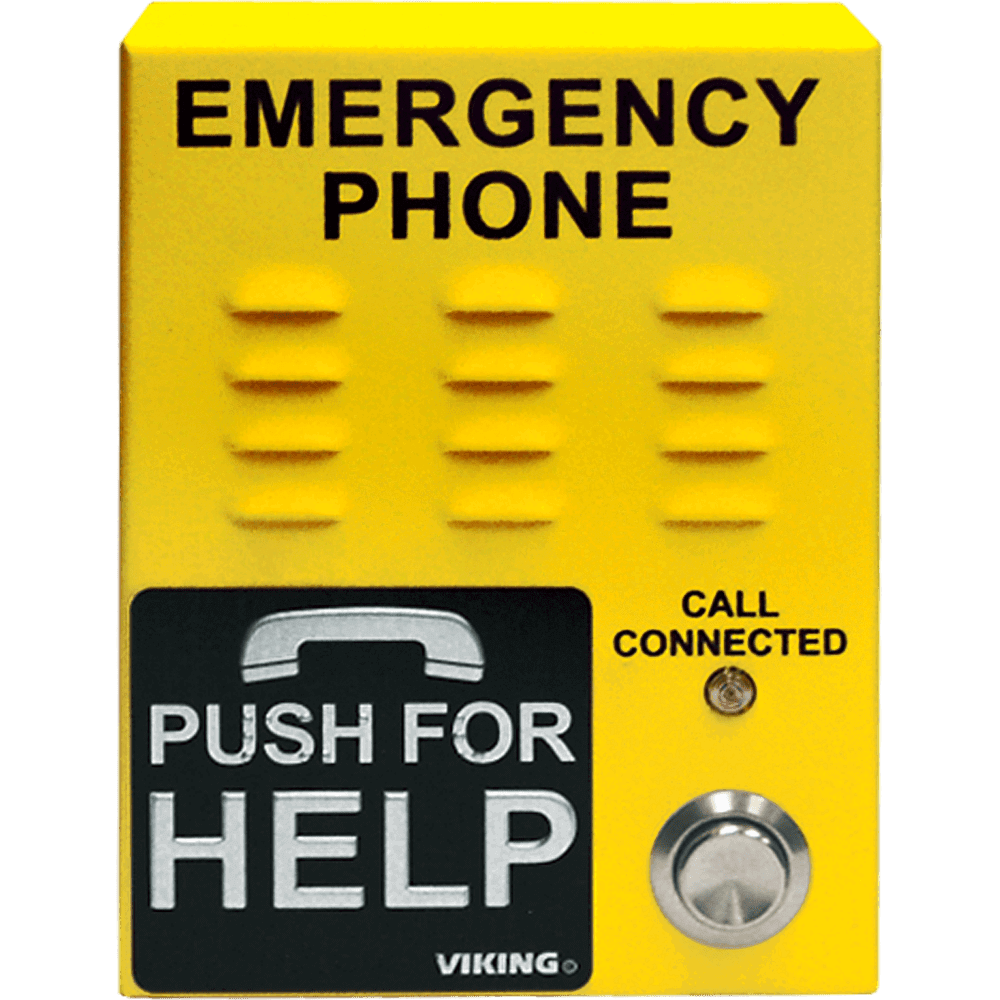 The Viking E-1600-45A A.D.A.Yellow Emergency/Elevator Phone is a compact, vandal resistant package with a steel push button. It is designed to provide quick and reliable handsfree communication for any standard analog telephone line or analog phone system station port. It meets ADA requirements for elevator/ emergency telephones, and can be programmed from any Touch Tone phone.
Viking E-1600-45A Features:
Can automatically light "call connected" LED for hearing impaired
Transmits a unique location I.D. code or voice announcement
Grade 2 Braille label for visually impaired
Has "Emergency" written vertically down the side
Non-volatile digital voice announcer with 16 seconds of voice memory
Non-volatile E2 memory
Advanced call progress detection
Handsfree operation
Phone line powered
Touch Tone or pulse dialing
Dials up to 5 emergency numbers
Cycles through backup emergency and non-emergency numbers on busy or no-answer
Hangs up on CPC, silence, busy signal, dial tone, time-out or Touch Tone command
Programmable to auto-answer on incoming calls
Remotely programmable
Extended temperature range (-15°F to 130°F)
Surface mount or mount on standard junction and single gang electrical boxes
Central station monitoring capability (dials 2 numbers)
Separate central station voice speed dial number
Enhanced weather protection (EWP) option ideal for outdoor or harsh environments
EWP option includes rubber gaskets and boots, silicon sealed connections, and gel-filled butt connectors
Material: .062" (16 gauge) steel with yellow powder paint
E-1600A-BLT-EWP
GTIN 0615687222432
UPC Codes:
615687221565
615687222432
Vikingtelecomsolutions.com, Inc. is a leading provider of Viking Electronics phone systems and equipment. We specialize in business phones and business phone systems for small to large companies; with phone systems for any application. We sell many of the brands in the IT, Telecom, Datacom, Electrical, and Industrial spaces.