$572.06
SKU: E-1600-32-IPEWP
Usually ships in 1-2 weeks
The Viking E-1600-32-IPEWP ADA and CE Compliant VoIP Emergency Call Box Phone is designed to provide quick and reliable handsfree communication for SIP VoIP phone systems with PoE. The Viking E-1600-32-IPEWP emergency call box phone meets ADA requirements for elevator/emergency telephones, and can be programmed from any touch-tone phone, PC on the same LAN, or remotely using a static IP address. The emergency call box phone can dial up to 5 programmable emergency numbers.
View full details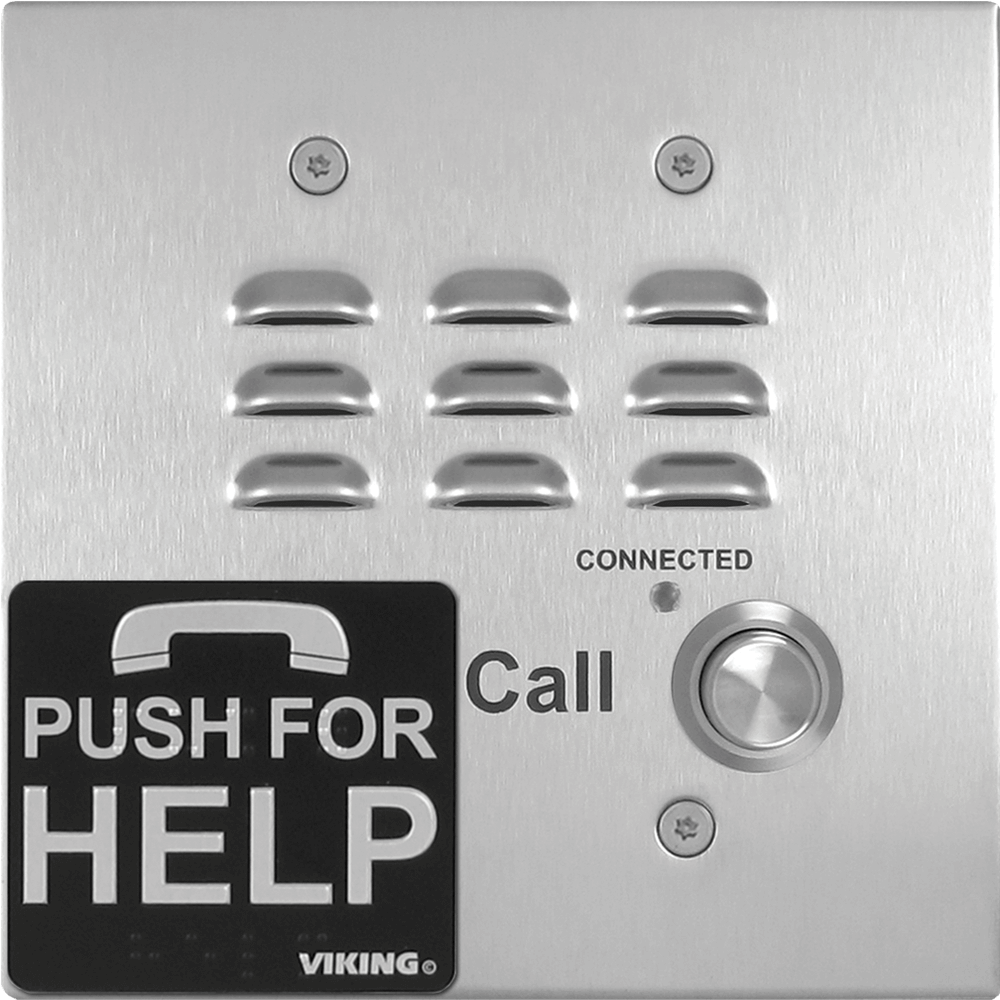 Viking E-1600-32-IPEWP Features:
Self diagnostic reports via email (testing com, mic, speaker & switch)
Automatic polling and programming software included
2 Amp relay contacts for door/gate or SL-2 strobe light control
SIP compatible (see pg 2 for list of compatible IP-PBX phone systems)
PoE powered (class 1,
Automatic Noise Canceling (ANC) feature for proper operation in noisy environments
Network downloadable firmware
Meets ADA requirements for Emergency Phones: Automatically lights the "Call Connected" LED
Transmits a unique location I.D. code or voice announcement-Grade 2 Braille label for the visually impaired
Non-volatile digital voice announcer with 28 seconds of voice memory
Handsfree operation
Marine grade 316 stainless steel prevents corrosion on the stainless steel models
Dials up to 5 emergency numbers
E-1600-20-IP and E-1600-52-IP dial up to 5 non-emergency "INFO" numbers
Cycles through backup phone numbers on busy or no-answer
Enhanced Weather Protection meets IP66 Ingress Protection Rating
Hangs up on busy signal, time-out or touch tone command
Remotely programmable
Extended temperature range (-15°F to 130°F)
11 different chassis or board only available
Viking E-1600-32-IPEWP Specifications:
Power: PoE class 1 (
Dimensions: See Installation and Specifications
Operating Temperature: -26° C to 54° C (-15°F to 130°F)
Humidity - Standard Products: 5% to 95% non-condensing
Humidity - EWP Products: Up to 100%
Audio Codecs: G711u, G711a, G722
Connections: (1) RJ45 10/100 Base-T, (3) gel-filled butt connectors
VoIP SIP System Compatibility List:
On Premise

3COM VCX
3CX
Allworx
Aastra
Asterisk
Atcom
Avaya Aura Platform
Avaya IP Office Platform
BlueBox
Brekeke
Cisco Unified Communications Manager (CUCM)*
Cisco Unified Communications Manager Express (CUCME)
Elastix
epygi QX200
Freeswitch
Grandstream*
Interactive Intelligence
iPECS (Ericsson-LG)
Iwatsu ECS
Kamailio
Mitel 3300
NEC
OfficeSIP
OpenSIPS
Panasonic** (with SIP Extension Card)
PolyCom
Samsung Communications Manager (SCM)
ShoreTel
Siemens Communications Server (SCS)
SIP Express Router (SER)
Snom PBX
Sonus
Switchvox
Teksip
Toshiba
Vertical Wave*
Yealink T Series S IP Phones
Cloud Based Service Provider:
Callcentric
iptel.org
MetaSwitch
Ring Central
sip.antisip.com
Switchvox
unify
Vertical Wave
Voice Carrier
VoIP.MS
Wildix
** Note: Relay operation commands are NOT compatible with Panasonic Phone Systems (Panasonic does not transmit DTMF between station ports)
Vikingtelecomsolutions.com, Inc. is a leading provider of Viking Electronics phone systems and equipment. We specialize in business phones and business phone systems for small to large companies; with phone systems for any application. We sell many of the brands in the IT, Telecom, Datacom, Electrical, and Industrial spaces.