$129.00
SKU: E-10A-U
Only two available - Missing inner packaging and faceplate has minor scratches
The Viking E-10A is a line powered entry door phone designed to two-way handsfree communication. Press the "Call" button to connect the Viking E-10A, the E-10A will disconnect when a CPC signal is detected, the programmed timeout has elapsed, a busy signal is detected or the call goes silent, making the unit automatically disconnect.
The Viking E-10A can be used with a Viking K-1900-5 or K-1900-30 dialer, or connected directly to a CO line or analog PABX / KSU station when programmed as a ringdown circuit. If a line or station is not available. A Viking DLE-200B ringdown circuit can be used. One to four E-10A speaker phones can share an existing entry phone line in a house or small business when used with a Viking C-200, C-250 or C-2000B Entry Phone Controller.
View full details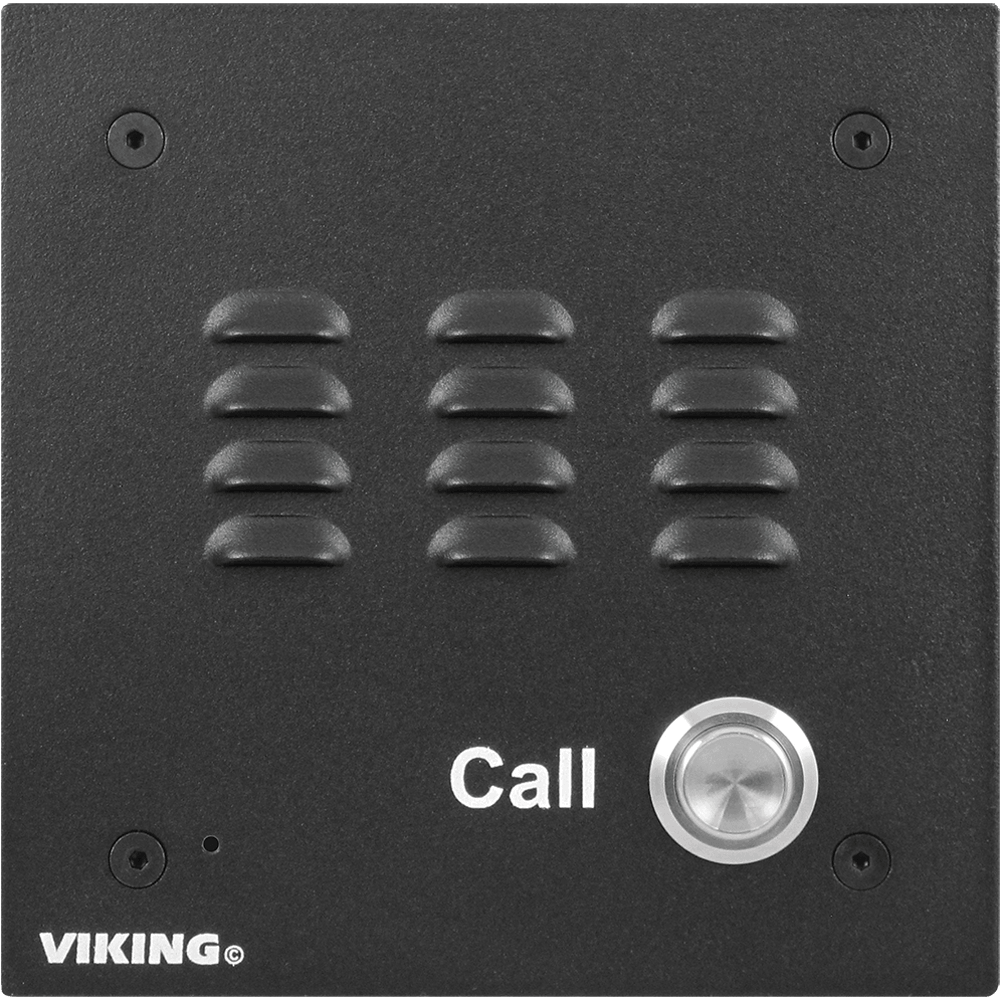 Viking E-10A-U Features:
Commercial, industrial and residential door security
Vandal Resistant
Flush Mount
Door or gate communication
Business delivery entrances
Use in conjunction with a Viking K-1900-5 Dialer on C.O. lines or analog PABX/KSU stations
Use on any programmed ringdown circuit of an analog PABX/KSU station
Alternate action call button to place or cancel a call
Intelligent call progress detection for automatic hang-up on CPC, silence, busy signal, or time out
Telephone line powered
Optional VE-5X5 Surface Mount Box
Adjustable microphone and speaker volume
Programmable maximum call length
Selectable auto-answer feature allows remote monitoring
Two way handsfree communication
Programmable VOX (mic/speaker) switching speed
For Enhanced Weather Protection version see E-10A-EWP
Missing inner packaging and faceplate has minor scratches

Viking E-10A Applications:

Door or gate communication, business delivery entrances
Provide unique front and back door chimes and paging when used with a Viking C-2000B and a Viking SLP-1 or SLP-4
Residential, commercial, and industrial door security
Use with a Viking K-1900-5 or K-1900-30 for automatic speed dialing on telephone lines or analog PABX / KSU station ports
Use on any analog PABX station port with programmable ringdown capability

Viking E-10A-U Specifications:

Power: Telephone line powered (18VDC / 20mA minimum)
Overall Dimensions: 5″ x 5″ x 2.25″ (127mm x 127mm x 57.2mm)
Rough-In Box Dimensions: 4″ x 4″ x 2.15″ (102mm x 102mm x 55mm)
Operating Temperature: -30°F to 150°F (-34°C to 65°C)
Humidity: 5% to 95% non-condensing
Maximum Speaker Volume: 70dB SPL @ 1m
Ring Voltage: 25VRMS minimum
Minimum CPC Disconnect Time: 300ms
REN: 0.8A
Connections: (2) Gel-filled butt connectors

Viking E-10A-U Certifications:
Vikingtelecomsolutions.com, Inc. is a leading provider of Viking Electronics phone systems and equipment. We specialize in business phones and business phone systems for small to large companies; with phone systems for any application. We sell many of the brands in the IT, Telecom, Datacom, Electrical, and Industrial spaces.