$491.55
SKU: E-60-SS-IP-EWP
Usually ships in 4 to 10 weeks
The Viking E-60-SS-IP-EWP is a compact, vandal resistant VoIP entry phone designed to provide handsfree communication for SIP phone systems with PoE. The Viking E-60-SS-IP-EWP can be programmed from any touch tone phone. It can also be programmed from a PC or remotely using a static IP address. The Viking E-60-SS-IP-EWP can dial up to 5 programmable numbers. On-board 2 Amp relay contacts are provided for activating door strikes or gate controllers. Use the RC-4A secure relay controller for added security.
View full details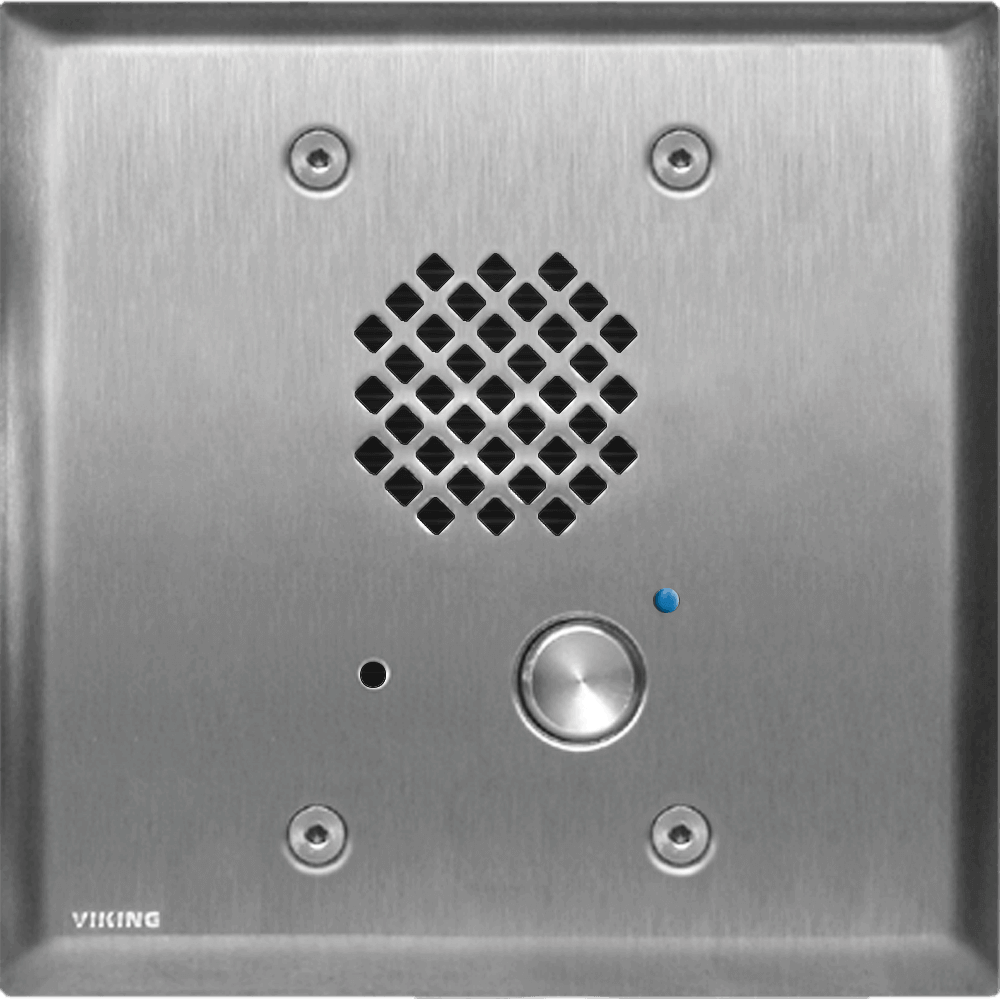 The E-60-SS-IP-EWP is a compact, vandal resistant VoIP entry phone designed to provide quick and reliable handsfree communication for SIP VoIP phone systems with PoE.
Viking E-60-SS-IP-EWP Features:
Compact: Front panel is the size of a typical double gang mid-size wall plate
Mounting: Flush mounts in a double gang electrical box (2.25" deep x 3.65" wide x 2.84" tall minimum) or surface mounts in an optional VE-5x5
PNL-60 faceplates: Replacement faceplates with matching screws available in all four standard finishes
Self diagnostic reports via email (testing com, microphone, speaker, and switch)
Automatic polling and programming software included
2 Amp relay contacts for door / gate or SL-2 strobe light control
Blue LED indicator
SIP compliant (see page 2 for list of compatible IP-PBX phone systems)
Outbound Proxy, Authentication ID, Peer to Peer, VLAN Tagging
PoE powered (class 1,
Automatic Noise Canceling (ANC) for proper operation in noisy environments
VoIP eliminates the need for "Push to Talk" mode
Network downloadable firmware
Can be used with optional RC-4A Secure Relay Controller (DOD 582) Handsfree operation
304 stainless steel prevents corrosion on the stainless steel models
Programmable to dial up to 5 numbers on busy or ring no answer
Cycles through backup phone numbers on busy or no-answer
Optional Enhanced Weather Protection (EWP), EWP products are designed to meet IP66 Ingress Protection Rating
Hangs up on busy signal, time-out or touch tone command
Remotely programmable
Extended temperature range (-40°F to 140°F)
Volume adjustments for microphone and speaker
Optional PB-100 Polling System available
Optional SL-2 or BLK-4-EWP strobe light kit available
Vikingtelecomsolutions.com, Inc. is a leading provider of Viking Electronics phone systems and equipment. We specialize in business phones and business phone systems for small to large companies; with phone systems for any application. We sell many of the brands in the IT, Telecom, Datacom, Electrical, and Industrial spaces.