$263.31
SKU: CTG-1A
The Viking CTG-1A can be programmed to output single, double or triple alert tones with up to 128 events in a 24 hour period in two separate schedules on a paging system. These bong/buzzer sounds are ideal for indicating the start and end of shifts, break times, lunch periods, etc. for factories, schools, or any business requiring an audible indication of specified times. Each day of the week can be programmed to either on or off, allowing you to turn off the alert tones during specific days of the week (weekends, etc.) In place of sending tones, the CTG-1A can be set up to operate a timed relay.
View full details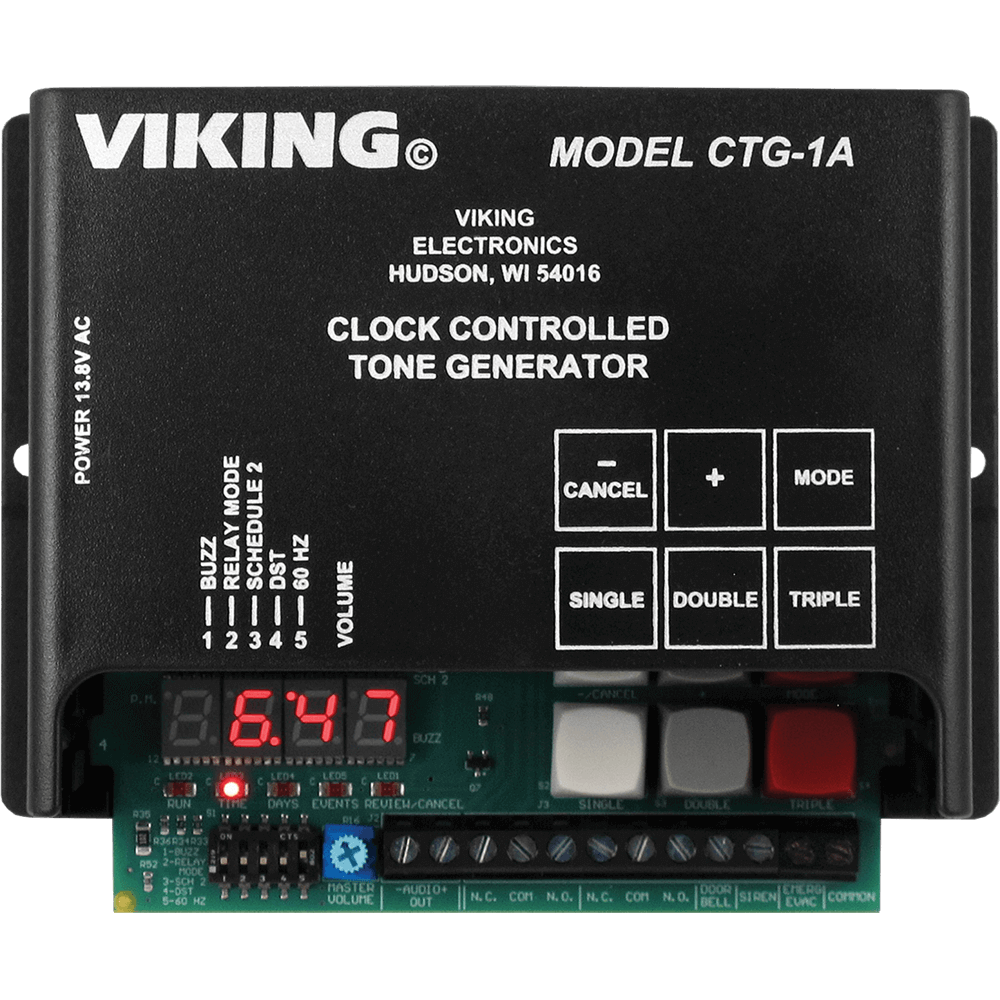 Viking CTG-1A Features:
Accurate 24 hour digital time clock displays hours and minutes synced to AC power
User programmable 24 hour, 128 event timer in two separate schedules
Programmable day of week on/off feature
Programmable single, double or triple alert tone output (select bong or buzzer)
600 Ohm line level audio output with volume control
Non-volatile memory with four day clock backup
Two sets of DPDT relay contacts for muting paging or background music during alert tones or timed relay events
Switchable 50/60 Hz operation
Switch for Daylight Saving Time
Time Relay Mode
Viking CTG-1A controlled sounds:
Emergency siren (yelp) sound
Temporal (slow whoop) evacuation signal*, *NFPA/ANSI compliant when used with supporting equipment
Doorbell (chime) sound
Viking CTG-1A Applications:
Signal the beginning and end of class periods, breaks, and lunch periods for schools
Signal the beginning and end of shifts, breaks, and lunch periods for factories and other businesses
Provides a doorbell and/or alarm sounds over an existing paging system, for such applications as door entry, fire, severe weather, etc.
Use with Viking's DVA-2WA to provide timed messages
Viking CTG-1A Specifications:
Power: 120V AC/13.8V AC 1.25A UL listed adapter provided
Dimensions: 5.25" x 3.6" x 1.75" (133mm x 91mm x 44mm)
Weight: 2 lbs (0.9 Kg)
Environmental: 32°F to 90°F (0°C to 32°C) with 5% to 95% non-condensing humidity
Connections: 12 position cage clamp terminal strip
Internal Clock Backup Time: 4 days
Time Base: 50/60Hz AC power line
Time Base Backup Accuracy: +/- 5 ppm
Audio Output: 600 Ohm with volume control potentiometer, maximum level = 17 dBm/5.4Vrms
across 600 Ohm load
Relay Output: DPDT rated 30V DC @ 1A, 110V DC @ 0.3A ,125V AC @ 0.5A (resistive loads)
Vikingtelecomsolutions.com, Inc. is a leading provider of Viking Electronics phone systems and equipment. We specialize in business phones and business phone systems for small to large companies; with phone systems for any application. We sell many of the brands in the IT, Telecom, Datacom, Electrical, and Industrial spaces.