$251.36
SKU: CL-D2
The Viking CL-D2 Digital Clock is part of Viking's Wireless Clock System provides accurate and relaible synchronized clocks for an entire facility. You can save thousands of dollars by eliminating dedicated clock wiring which also allows for easy retrofitting of an existing installation. Viking's system is not limited like other wireless systems. The clocks act as a repeater meaning the secondary clocks both receive and retransmit the signal, maximizing signal transmission distances. Working on Viking's 915-928MHz frequency hopping technology eliminates interference with other wireless products and requires no FCC license, eliminating extraneous fees. The signal remains strong even under the effects of noise, obstructions or long distances which tend to decrease the signal to noise ratio.
View full details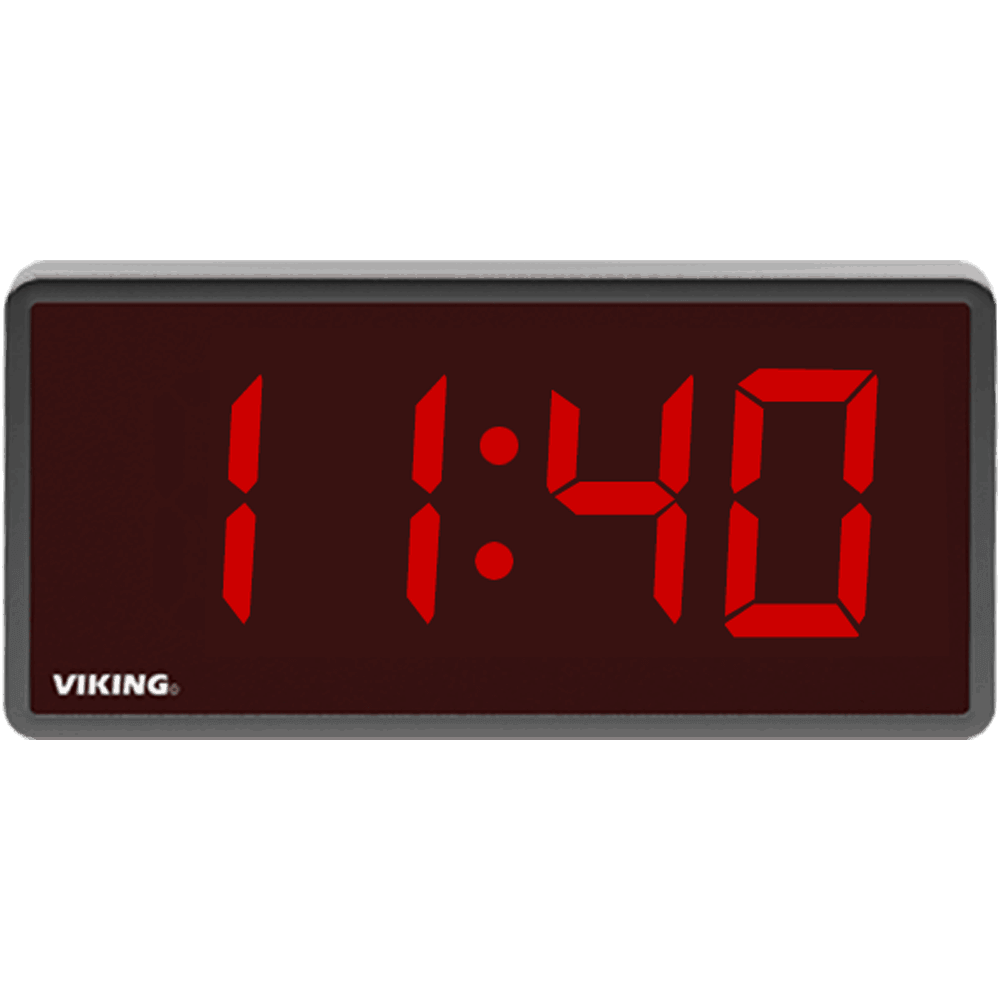 Viking CL-D2:
Built-in repeater receives and retransmits clock sync signal each minute
915 – 928 MHz frequency hopping technology
Internal antenna
Built-in diagnostic mode for easy maintenance
Receives the RF Sync signal once a minute
Immediate correction for time change
12 or 24 hour format
Two levels of adjustable brightness
Loss of communication alert
Manufacturer Warranty: 2 Year Limited Warranty

Viking CL-D2 Applications:

Wirelessly synchronize all clocks in your facility
Schools
College Campuses
Restaurants
Churches
Theaters
Auditoriums
Dormitories
Office buildings
Factories

Viking CL-D2 Specifications:

Input Voltage: 120VAC / 12VDC 500mA UL listed adapter included or 12 – 30VAC/DC
Average Current Consumption (max brightness): 85 mA @ 24 VAC
Bezel Dimensions: 4.69″ (119mm) x 10.31″ (262mm)
Display Digit Dimensions: 2.5″ (64mm) tall
Temperature: 32°F to 90°F (0°C to 32°C)
Humidity: 5% to 95% non-condensing
Input Sensitivity: -103 dBm
Operating Frequency: 915 – 928 MHz frequency hopping technology
Transmitter (Repeater) Power Output: 0.25 Watt (8 dBm), transmits up to 500 ft in open space
Compliance: FCC compliant, part 15, section 15,247 (no license required)
Bezel Color: Anti-glare red
Brightness: Two levels, adjustable
Display Color: Vibrant Red
Display Format: 12 or 24 hour mode
Number of Digits: 4 digits
Visibility: 100 ft. (30.48 m)
Mounting: Surface Mount with CL-SMD2 or Double Mount with CL-DMD2
Vikingtelecomsolutions.com, Inc. is a leading provider of Viking Electronics phone systems and equipment. We specialize in business phones and business phone systems for small to large companies; with phone systems for any application. We sell many of the brands in the IT, Telecom, Datacom, Electrical, and Industrial spaces.