$2,495.95
SKU: AES-2000F
4-6 week lead time
The Viking AES-2000F System provides both audio and visual assistance for those with disabilities.
Large 0.5″ tall characters on a back-lit LCD screen displays a directory of tenants as well as directions and prompts. The AES-2000F system has a built-in voice recorder providing a supporting audio message. When you press the *EZ® HELP button. Instructions on how to use the door entry system are both displayed and announced. .
The Viking AES-2000F System has a built-in directory and can support up to 525 tenant names and phone numbers and dials a pre-programmed phone number upon selection of a tenant. Once two-way communication has been established, the tenant can activate a remote door strike by entering a touch-tone command on the access control entry system. A second relay is also provided to operate an automatic door. The Viking AES-2000F System access control also supports keyless entry at the door via a built-in keypad or by adding a Viking Proximity Reader.
The Viking AES-2000F is designed to be surface mounted. If a surface mount version is required, see Viking AES-2000S. Both versions feature durable vandal resistant faceplates and housing. .
Note: This unit requires a Viking PB-100 (sold separately) for programming and because it uses modem transmissions, it requires a high-quality analog phone line for proper operation. .
* EZ® and EZ Access® are registered trademarks of the Wisconsin Alumni Research Foundation
View full details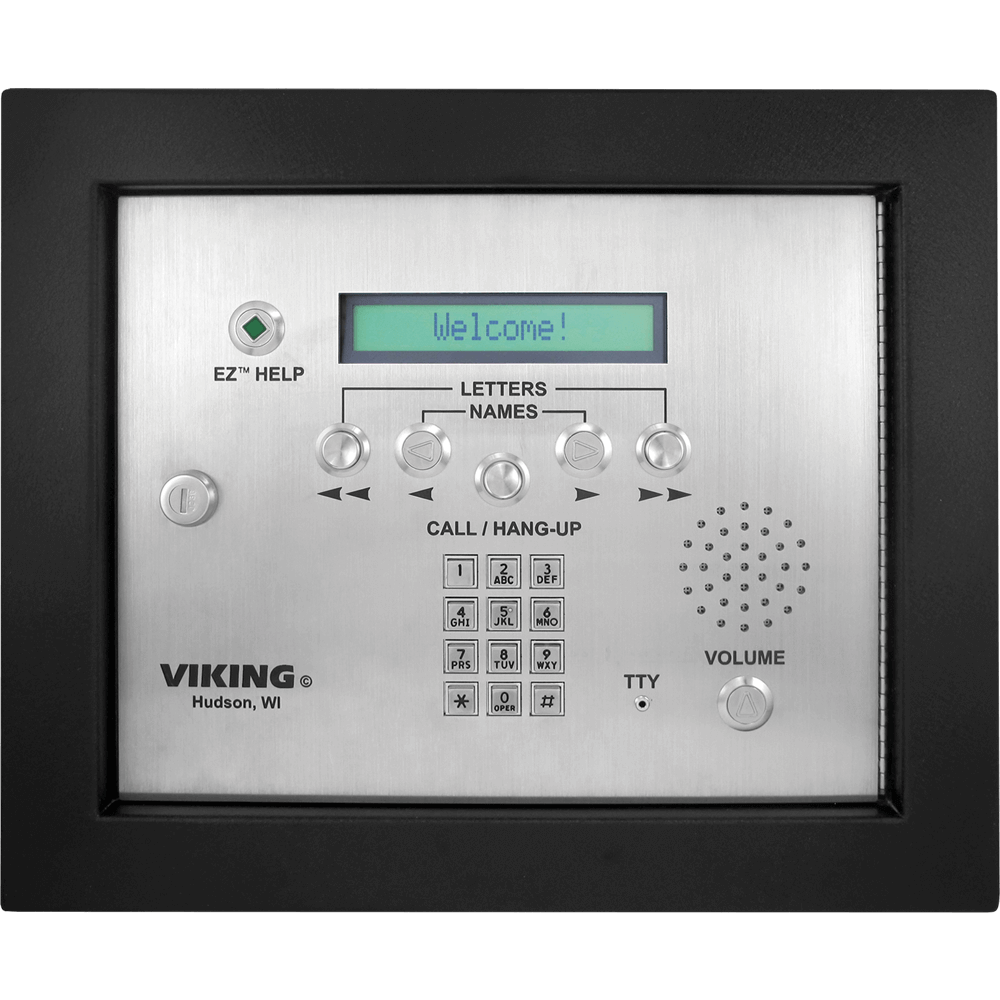 Viking AES-2000 Features:
16 position back-lit display
Large 1/2" high character display shows directory of people in building, and also displays directions and message prompts
EZ access button displays and announces information on how to use system
Built-in voice recorder can also provide a verbal message
Non-volatile digital voice announcer
Factory configured to handle 75 apartments (expandable to 525 apartments using ERAM-4M expansion kits)
Non-volatile data memory for names, phone numbers and access codes
Volume control
AES-NET card reader interface
TTY jack for connection to personal TTY
Postal lock input
Keyless entry capability
5 amp door strike and automatic door relays
12 gauge stainless steel front panel
1/4" thick abrasion resistant polycarbonate display lens
Metal keypad and push button switches
Speaker protection screen
Weather resistant
Manufacturer Warranty: 2 Year Limited Warranty
Available in surface mount (AES-2000S) or flush mount (AES-2000F) configurations
NOTE: Requires PB-100 for programming.
Viking AES-2000F Applications:
High rise apartment buildings
Condos
Senior citizen buildings
Assisted care centers
Retirement homes
Gated communities
Use with Viking PRX-1 (DOD 221), PRX-2, PRX-3 or PRX-4, Proximity Card Readers
Viking AES-2000F Specifications:
Power: 120V AC/13.8V AC 1.25A, UL listed adapter provided
Dimensions: AES-2000F (Flush): 15.1" x 12.6" x 3.25" (383.5mm x 320mm x 82.55mm)
Environmental: -15° F to 130° F (-26° C to 54° C) with 5% to 95% non-condensing humidity (see Installation for details)
Display: 16 position, 0.5" x 4.25" back-lit LCD
Relay Contacts: 5A @ 30V DC/250V AC maximum
Connections: (20) cage clamp screw terminals
Maximum Wiegand Length (24 AWG wire): PRX-1: 800 ft (244m), PRX-2: 400 ft (122m), PRX-3 (using 3 pairs for power): 800 ft (244m), PRX-4: 800 ft (244m)
Vikingtelecomsolutions.com, Inc. is a leading provider of Viking Electronics phone systems and equipment. We specialize in business phones and business phone systems for small to large companies; with phone systems for any application. We sell many of the brands in the IT, Telecom, Datacom, Electrical, and Industrial spaces.