$425.17
SKU: 22TB-IP
Usually ships in 4 to 10 weeks
The Viking 22TB-IP Talk Back ceiling speaker tile replacement enables two-way conversations and end point paging via SIP and also allows for standard paging and background music via multicast. The Viking 22TB-IP Ceiling Speaker easily connects with a single CAT5/6 cable from your PoE switch. Its 2' x 2' size, shallow depth and lightweight design make for quick and easy installation in drop or suspended ceilings. The Viking 22TB-IP aesthetically pleasing white grill blends in with existing ceiling tiles and air vents.
View full details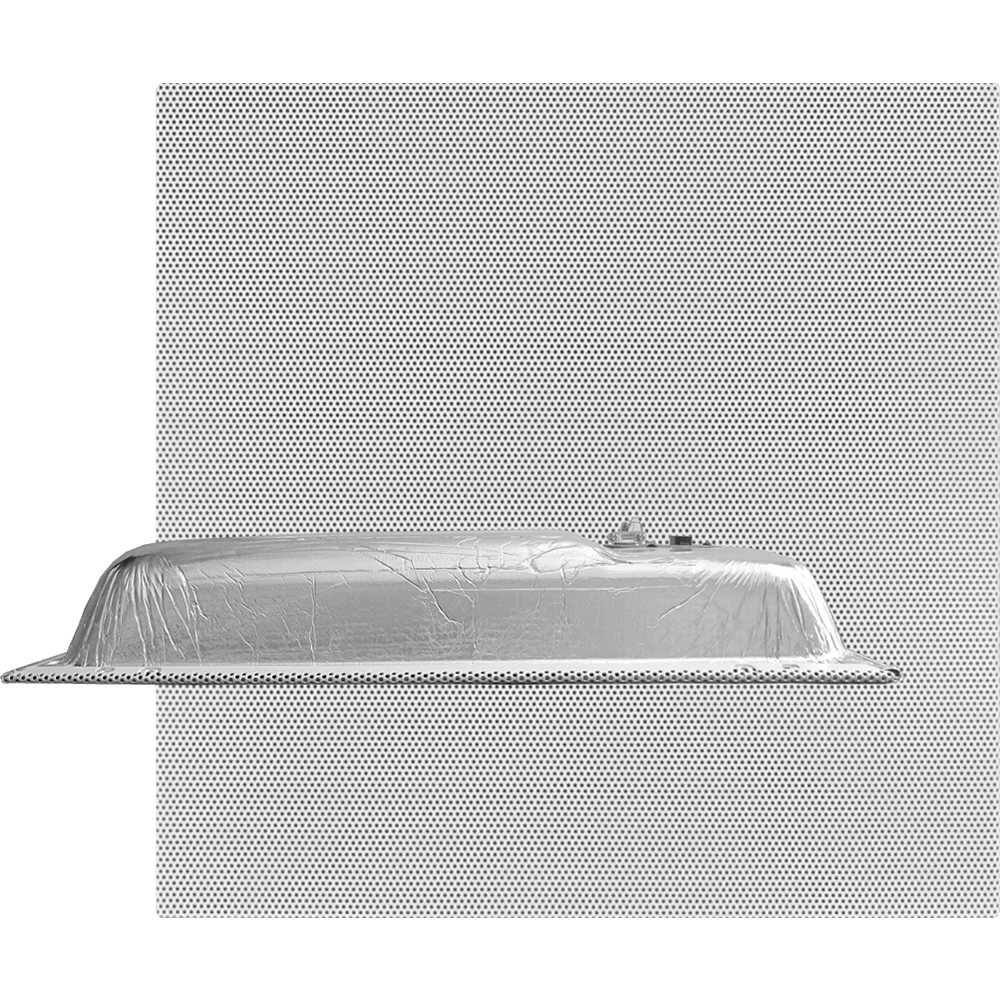 .Viking 22TB-IP Features:
SIP compliant (see page two for list of compatible SIP servers and IP phone systems)
Up to 28 second ID announcement (uploaded from wave file or recorded live)
Paging prioritization
Plays audio from multicast
SIP endpoint or multicast group member
Supports up to 10 multicast paging groups
Add an optional SL-2 blue, green, red or amber strobe light
Blue call status LED indicator
Automatic Noise Canceling (ANC) feature for operation in noisy environments
Viking's proprietary VOX switching eliminates the need for "Push to Talk" mode
Selectable auto-answer feature for monitoring
Autoprovisioning via Viking programming software
Built-in high efficiency 6 Watt class D amplifier
Can drive up to 5 external analog speakers for greater coverage
Relay for activating door locks, strobe lights, external amplifiers, etc
SIP/Multicast: SIP page, SIP page and zoned multicast stream, zoned multicast receive
Support for access code to prevent unwanted SIP calls
Line-level audio output for connecting to an external amplifier
Hangs up on: busy signal, time-out, or touch tone command
Network remote speaker volume control
Mounting: Drop mounts into 2 x 2 or 2 x 4 suspended ceilings
Heavy duty back box protects speaker and circuitry against plenum dust
Automatic Gain Control (AGC) to automatically increase ring volume to compensate for ambient noise
Diagnostics for testing microphone, speaker and relay
Programmable pre-page alert tone

Viking 22TB-IP Applications:

Amplified SIP endpoint or multicast IP paging for: schools, hospitals,retail stores, office spaces, etc.
Provide background music and sound masking
Make standard and/or emergency SIP phone calls via hands free talk-back speaker
Background music and emergency calls for elevator applications retail stores, office spaces, etc.
Mount in the ceiling above the door and use the existing door bell switch to activate a call
Viking 22TB-IP Specifications:
Power: PoE class 3

(<13 Watts)

Dimensions: 23.75" x 23.75" x 3.75" (603.25mm x 603.25mm x 95.25mm)
Operating Temperature: -40°F to 140°F (-40° C to 60° C)
Humidity: 5% to 95% non-condensing
Audio Codecs: G711u, G722* and G711a*
Network Compliance: IEEE 802.3 af PoE, SIP 2.0 RFC3261, 100BASE-TX with auto cross over
Connections: (1) RJ45 10/100 Base-T, (1) 8 position terminal block
Sensitivity: 96dB / 1W / 1M S.P. Level
Maximum Output Level: 105 dB SPL @ 1M (with no additional Speakers connected)
Amplifier: 6 Watt class D
*NOTE: The 22TB-IP does not support multicast paging using the G722 or G711a Codec.
Vikingtelecomsolutions.com, Inc. is a leading provider of Viking Electronics phone systems and equipment. We specialize in business phones and business phone systems for small to large companies; with phone systems for any application. We sell many of the brands in the IT, Telecom, Datacom, Electrical, and Industrial spaces.