$220.35
SKU: RC-4A
The Viking RC-4A Controller provides networked control of four relays via an easy to use web interface. This same interface can be used to check the status of four contact closure inputs. Relays can be toggled on or off, or activated for a length of time.
View full details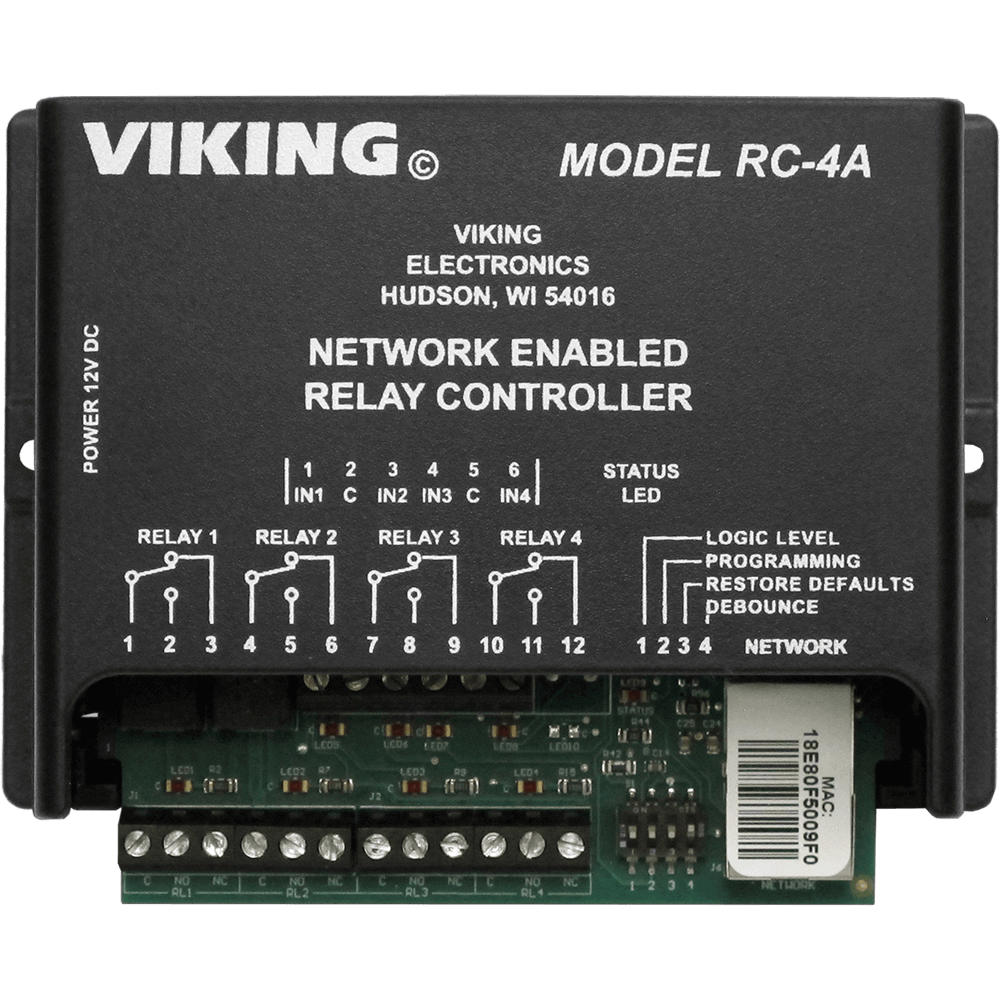 Viking RC-4A Features:
Terminal strip connections for normally open, normally closed, and common for all four relays
Relays can be toggled or timed closures of from 1 to 99 seconds can be activated
Terminal strip connections for all four sensor inputs
Notification by email or text message of sensor input state change
Can be used as a secure remote relay for Viking VoIP series phones
Remote Interaction: sensor change on one RC-4A triggers relay activation of a second RC-4A across network
Ready-to-use webpage control interface
Encrypted login
Two levels of access based on login:
– Administrator (full access)
– Guest (programmable limits)
Relay names, input names and input status can be customized on webpage
Firmware updatable
Viking RC-4A Applications:
Secure building entry
Heating/cooling equipment
Pumps and fans
Security system
Gates
Lighting
Emergency tones

Viking RC-4A Specifications:

Power: 120VAC/12VDC 500ma UL listed adapter provided
Dimensions: 5.25" x 3.5" x 1.75" (133mm x 89mm x 44mm)
Environmental: 32 F to 90 F (0 C to 32 C ) with 5% to 95% non-condensing humidity
Relay Contact Ratings: 5A @ 30VDC/120VAC
Connections: (1) 12 position screw terminal block, (1) 6 position elevated screw terminal block
LAN Interface: (1) RJ45 10Base-T/100Base-TX
Minimum Requirements: Windows XP and newer, Mac OSX or newer, Android 2.2 or newer, iOS4 or newer (iPhone requires chrome), Javascript enabled internet browser

Viking RC-4A Certifications:
Vikingtelecomsolutions.com, Inc. is a leading provider of Viking Electronics phone systems and equipment. We specialize in business phones and business phone systems for small to large companies; with phone systems for any application. We sell many of the brands in the IT, Telecom, Datacom, Electrical, and Industrial spaces.